The Bean is 3 Months Old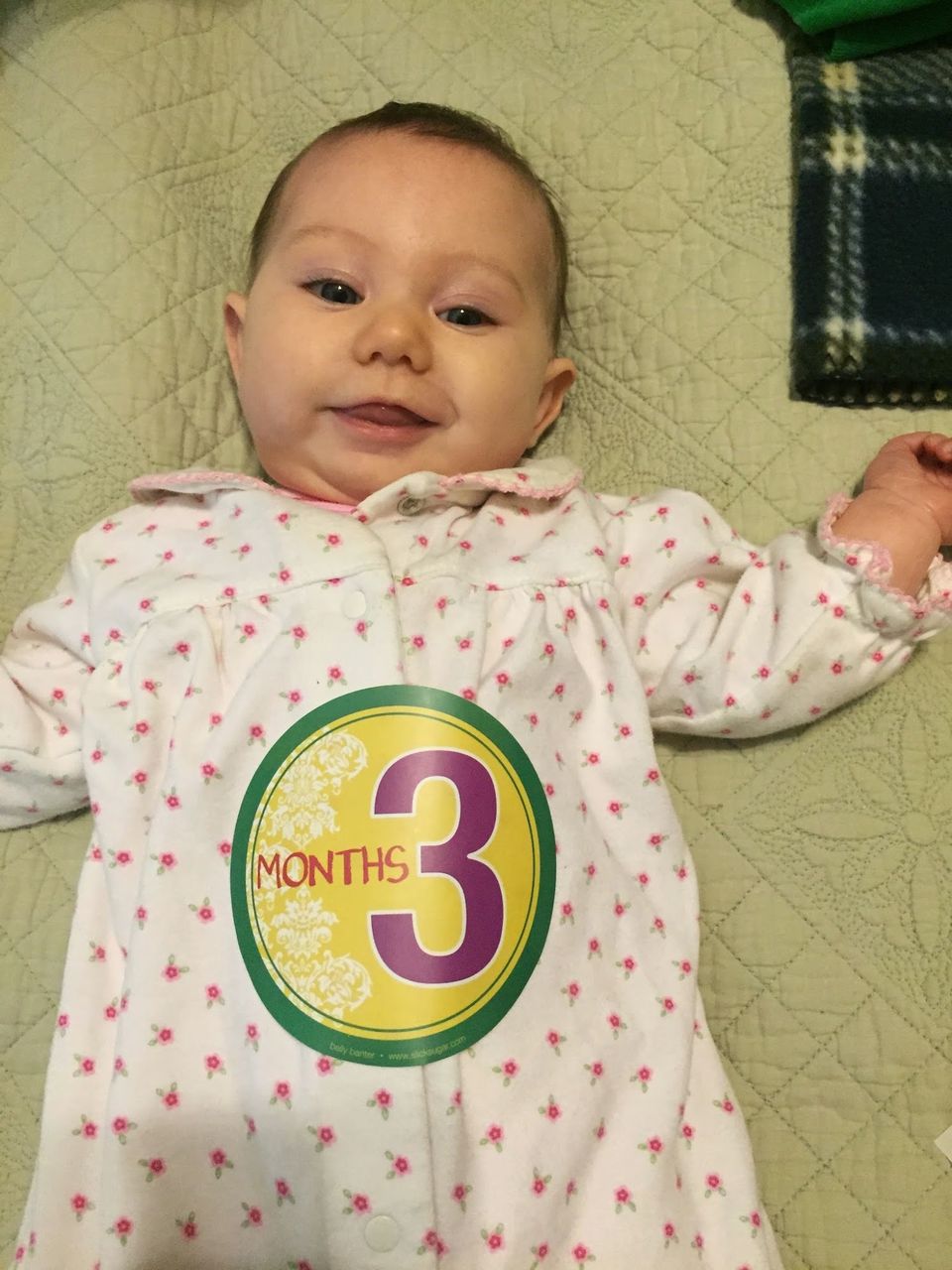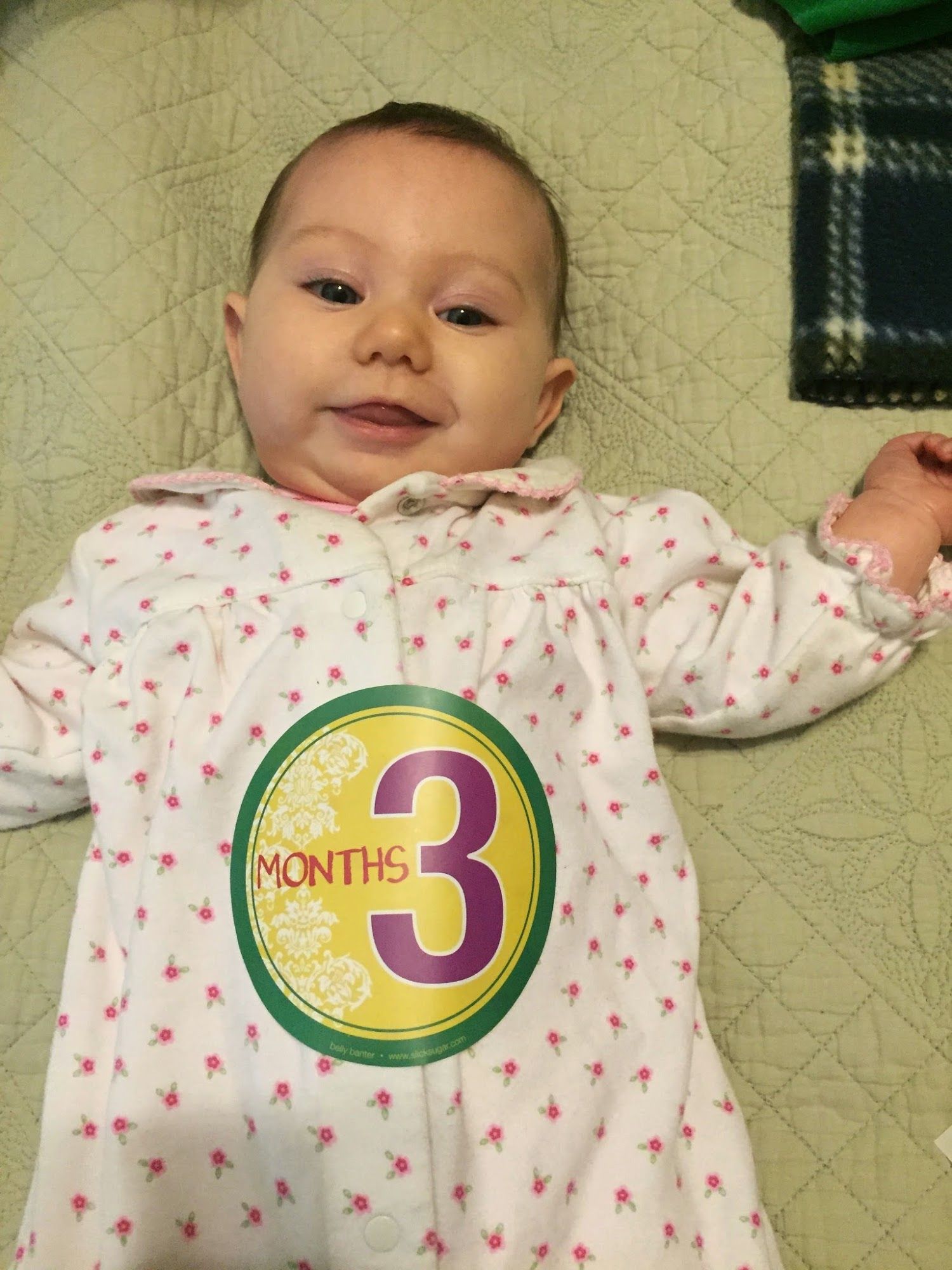 With each of the kids I came up with a nickname. Before The Bean was born I threw some names out there. We thought Boo and I really liked Batty taken from the series The Penderwick Sisters. They were cute, but none seemed to take.  Then while checking out our precious girl the lactation consultant called her bean and well it stuck. She has become The Bean.  Even the kids call her The Bean. "Hi Mama, how's The Bean?"  So after 3 months, we have finally found a nickname that sticks.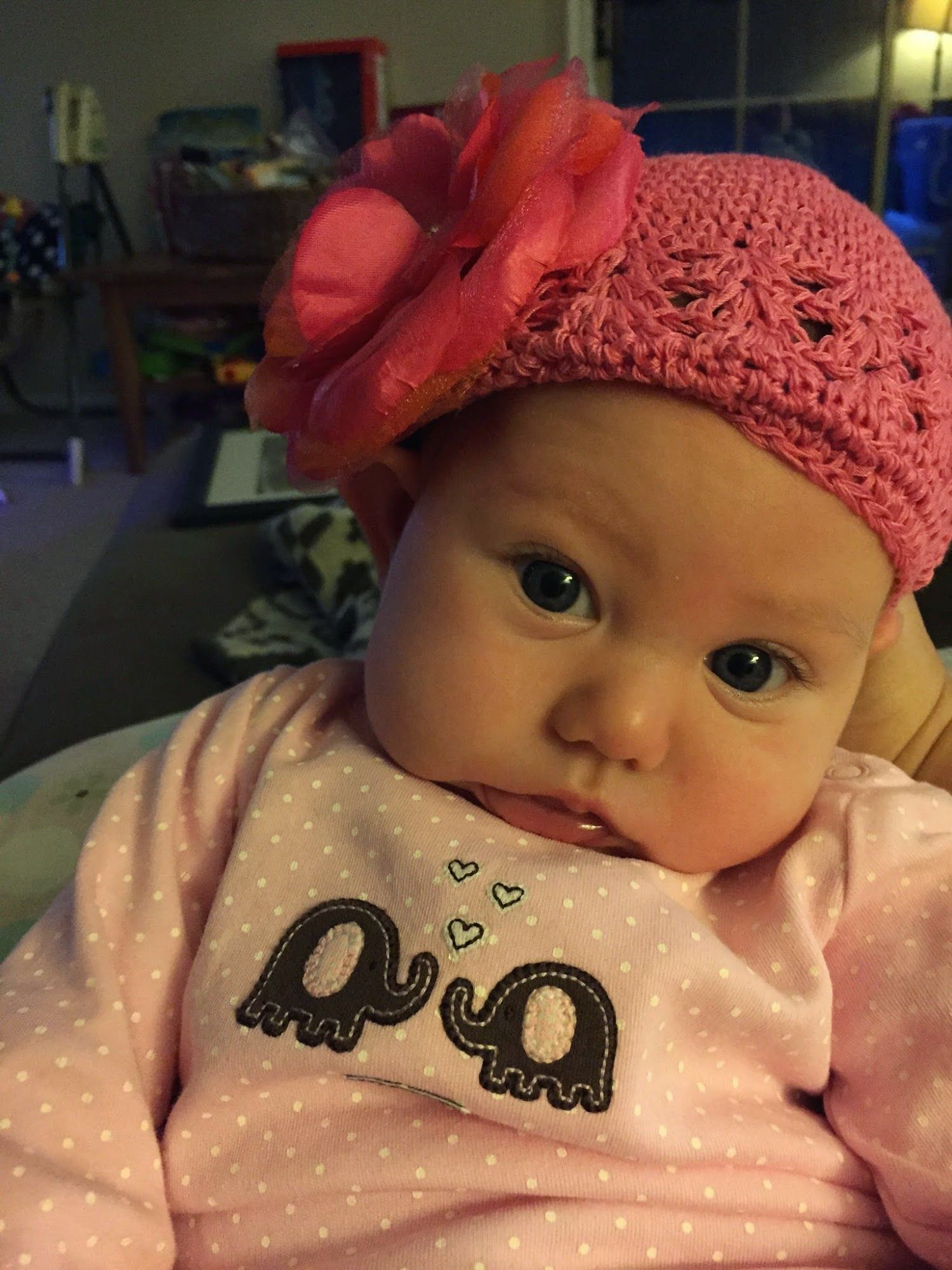 I still like to sing her full name to her because she gives me the most beautiful smile.  We refer to her by her nickname E., but more often than not she has become The Bean.  And we love it.
She is growing so quickly.  She is starting to outgrow her first set of outfits and the more I try to savor her littleness, her infancy, our snuggles she seems to grow even faster. The more I want to slow down time, the faster it goes.
The Bean is a trooper. The poor girl does not get a set nap schedule because of her siblings' schedules. As a result she often naps in her carrier while she is being carted hither and yon.  She spends her mornings at the gym with me after we drop off the kids at their schools and her afternoons in the stroller picking them up at school. It's winter and it doesn't make sense for me to drive the half mile to the school because I have to get out of the car with the two little kids to pick up the big kids.  So more often than not I bundle us all up really well and the little kids and I walk to pick up the big kids.  There are days where I will put The Bean in a front carrier and then put one of my husbands fleece jacket over us and zip her in.  She likes it, it keeps us both warm, and I get a workout.  If it's particularly windy she blinks her eyes like an owl when we finally make it indoors.
We finally have a formal family picture of the six of us.  I was not thinking ahead and put the flowered headband on the wrong side of her head and when you see our picture, Bean's face is obscured. Even so you can tell she is screaming her head off in the picture. I still really like the picture and you know what? It's real. This is life. Screaming babies and goofy kids.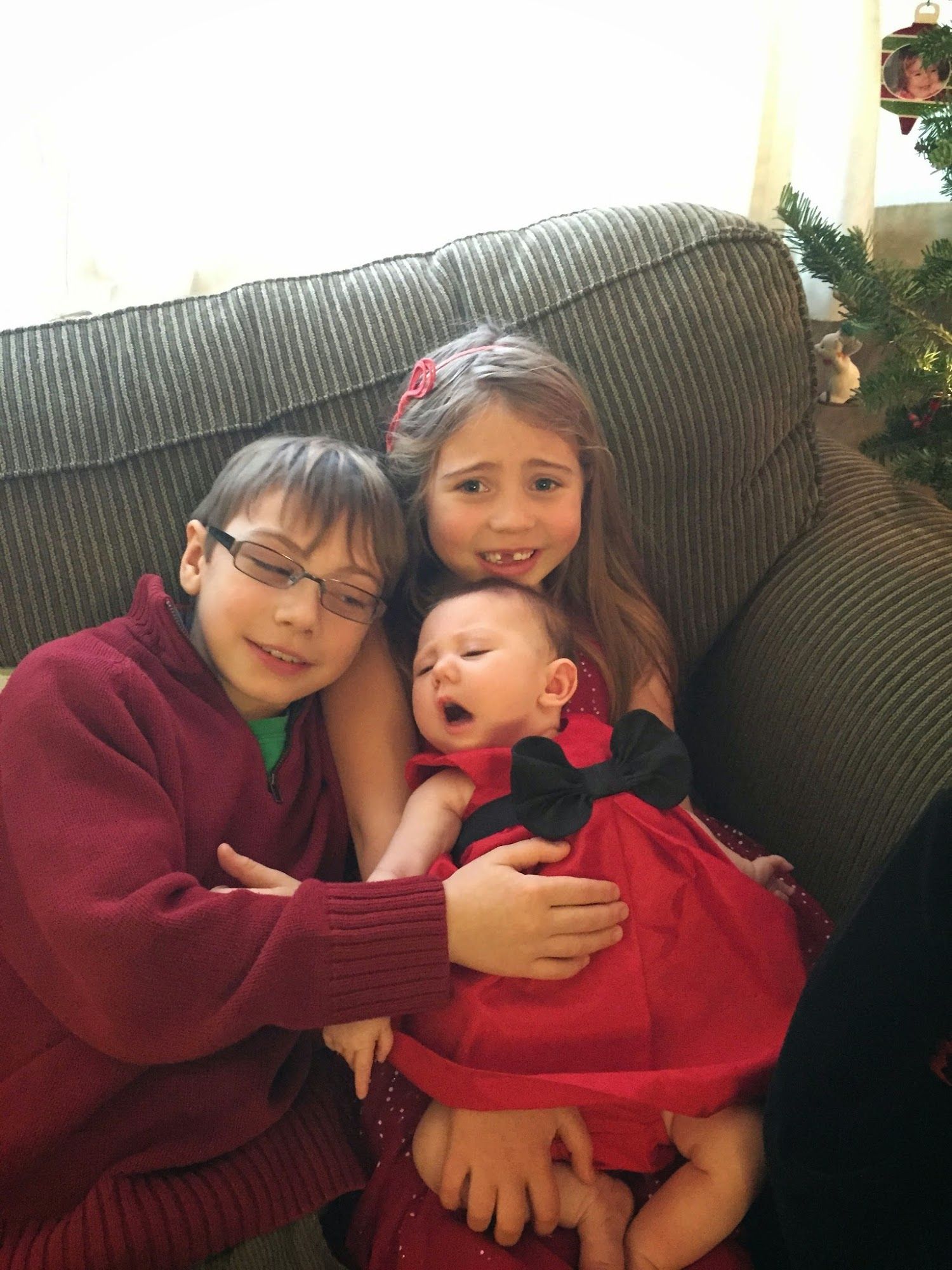 Christmas day was fun for me.  I loved having a newborn in the house for Christmas. While she won't really appreciate it until next year, I still enjoyed putting up her new ornaments, having Buggy help in choosing the The Bean's stocking, and having a sweet morning with my favorite people. We spent the night before at my SIL's house for our annual Christmas Eve open house and mass after.  It truly is one of my most favorite family gatherings.  This year Hubby and I hosted our families for Christmas. It was a little nutty after just having a baby, but I love a full house during the holidays. My husband makes our families sing for dessert and we all joined in for the 12 Days of Christmas.  Again, I love having a newborn in the festivities. It's also a nice reminder of how Mary might have felt when welcoming her son, Jesus, into the world.  The newness of life, the celebration to come.
We're still working on schedules and the kids have been really good about trying to sit with her while I make dinner. Even though I have been through this 3 times before, I'm still trying to find a routine that works with us.  It's slowly happening, but life is unpredictable and life with 4 kids is really unpredictable, but we just keep swimming.