My Summer as a Flipper Rep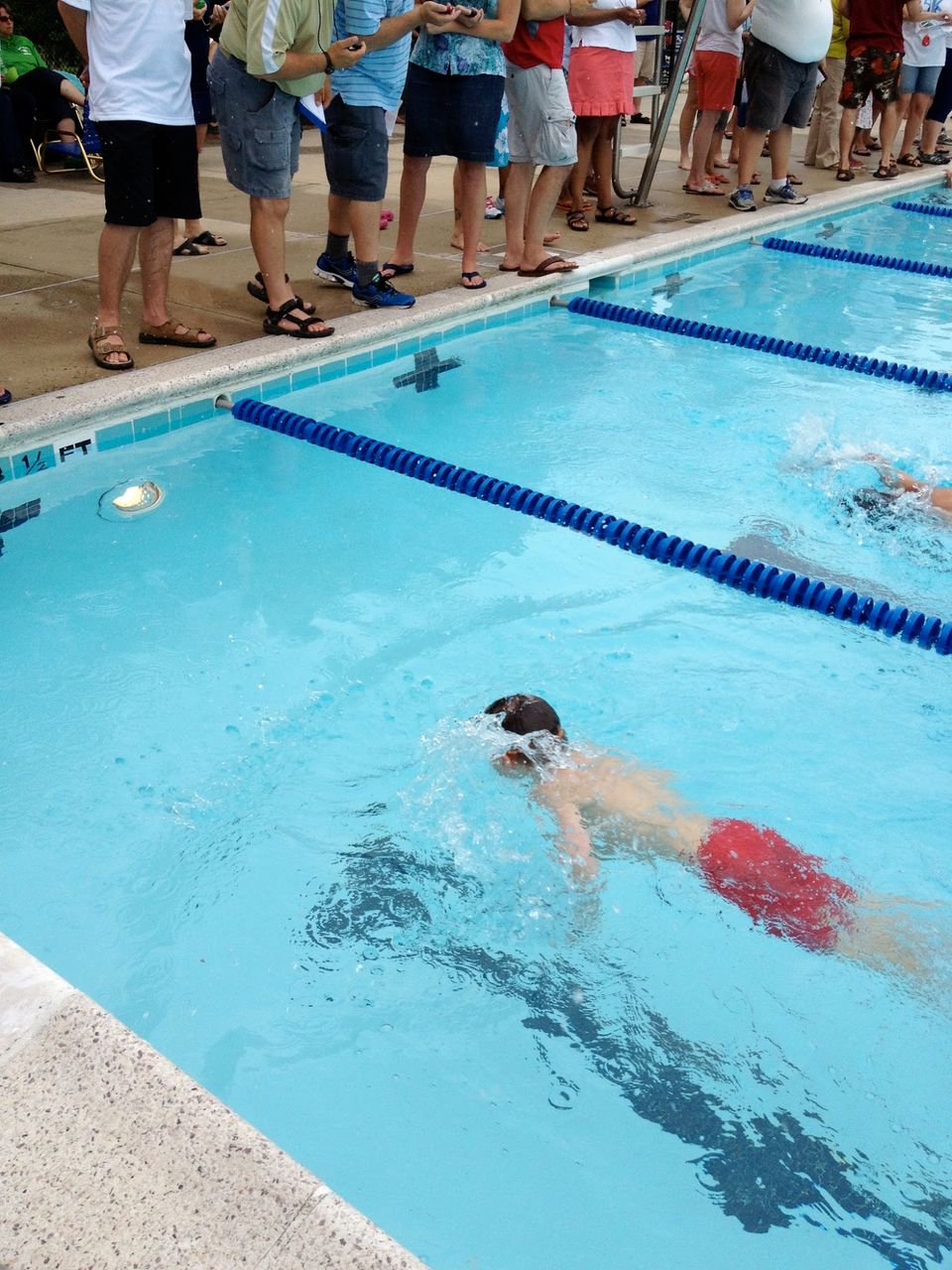 It's been ages since I've found any time to sit down and write. I write posts in my head all the time and have yet to get them down on virtual or real paper.  I have been so busy with my class (It's over and I earned an A! Thanks Amy and Amanda for watching the kids so that I could get in several uninterrupted hours of studying!)  I spent about 6 weeks of my summer getting my feet wet (literally and figuratively) as our swim team's pre-team "Flipper" rep. And now I am finishing up teaching preschool for our parish's week long Summer Religion Camp.  There really hasn't been a vacation in my summer vacation and I am so looking forward to a week at the beach which is somewhere in my horizon.
This summer was a little harder with trying to finish up my class. I think my friend Amy said it best when she said that teachers make the worst students. We really do. We think we know everything and yes, we do ;)  I was in the midst of finishing up my class when my oldest began swim season. His school was still in session, I was taking classes, and I had agreed to be the swim team's pre-team rep.
I'll admit now that I was apprehensive about being the rep.  My friend was the Flipper rep before me and only step down because she moved to the other coast.  She tried to talk me into it for about a year and my response to her was, "I don't like people." She actually told the other reps that I said that and what  do you know? They still wanted me to help them out with our youngest swimmers.  I received an email around April asking if I'd still consider being the pre-team rep and I said, "yes."  It ended up being a good decision and I had a blast working with the coaches. My role was to be the liaison between the parents and the coaches.  I had to keep parents apprised of the swim team events, tell parents if their swimmer was swimming in a meet, support the coaches, coordinate Flipper evaluations, coordinate the mini meet with other teams, and all around be on deck to answer questions no matter how random.
I probably spent about 15-20 hours a week on the pool deck and probably spent another 5 hours a week doing "administrative" support. I met some great people, worked with amazing coaches, soaked up a lot of vitamin D, and most importantly I was able to be involved in an activity that my kids loved. I was there for them, I wasn't bored waiting for them, and I loved doing something for my kids. This is a part of the "stay-at-home mommy" job that I love. Being there full-time for my kids and their activities. Being the Flipper rep was my job this summer and it was job that allowed me to be there full-time for my kids.  Granted I probably gained 5 extra pounds from all the fast food we ate after practices, during meets, and any time I didn't have time to cook (which was all the time!) and my house was never neat. It was constant drop-off bag of stuff, wash towels/bathing suits, get kids to bed, wake up kids, go out the door, and do it all over again for about 4 weeks solid. In that time my oldest learned how to swim backstroke, my middle learned how to swim freestyle with support, and my youngest thought the swim team was his personal fan club.  My husband was super supportive and spent countless hours on the pool deck on Saturdays herding children as I helped the team in some way, shape, or form. Hubby also helped with a lot of set-up and clean-up for various events.  Swim team really was a full family affair.  And we loved it.
My role is strictly volunteer. I do not get paid and I do not get a discount on my kids' swim fees. People are always surprised when I tell them that I am a volunteer and the type of time commitment it takes to not only be on the swim team but to volunteer for it as well as a rep.  I have no regrets. I had a ton of fun and I would totally do this again if asked. (But also would be just as happy hanging out on the deck as a regular swim mom if not asked.) My kids' smiling faces was a big bonus. At the end of the season I was given the absolute nicest thank you card from all the coaches which made the job that much sweeter.  Seriously. It's a keeper.
I am so happy to have been able to spend time with my kiddos this summer while soaking up the summer sun being outdoors. (Read: we did not sit on our bottoms and watch tv. I don't think we turned on the tv most of the summer!). It was awesome. I'm looking forward to sleeping in the next few weeks before school starts, and not answering to anyone but my own family, but I wouldn't trade this summer as a Flipper rep for something else. It was a pretty fun summer and a good memory maker. Looking forward to next year!