My First Half Marathon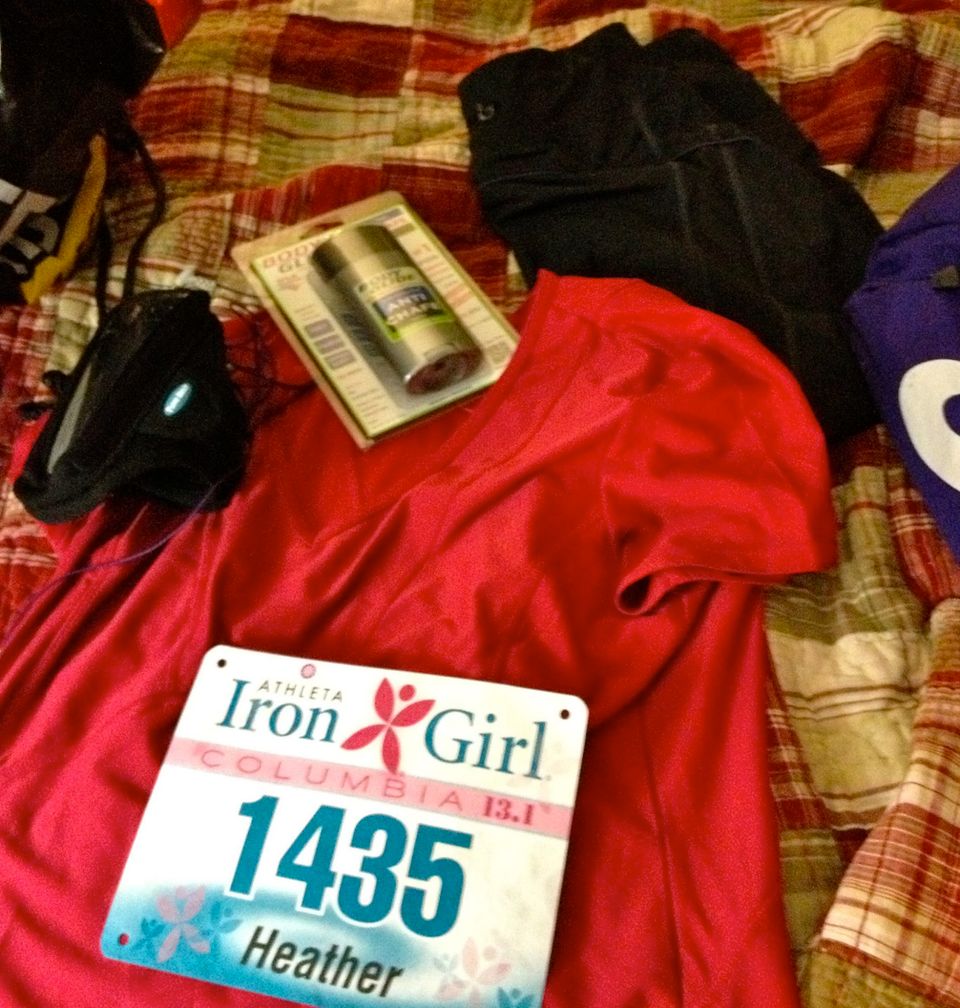 I am two days away from running my second half marathon and for some reason I have avoided writing about my first half marathon. There is no reason for it. I finished faster than I had hoped, it was a great run, my kids and husband were there to cheer me on, my friend A. ran the 5K portion of the race, and my friend S. ran the half-marathon and cheered me on to the finish. It was an awesome day and an awesome race for a first time half marathon.  It was also a women's only half marathon and for my first, I liked that idea. I had read on various blogs and reviews that a women's only race is different from the co-ed races. The women tended to be more encouraging while running.
I was really lucky that my first half marathon was just a few miles away from my best friend's house.  My family and I attended Saturday evening mass at a church that was at the halfway point between our house and her house. We met her after for dinner for some yummy mexican food and then I loaded my stuff into her car, said my goodbyes to my kids and husband, and spent the night at my friend's house.  I was nervous and fidgety.  The night before the race I prepared everything I thought I would need for the race.  I had a horrible time trying to fall asleep because of nerves. Hubby texted me around 10pm and told me to get some sleep. I finally fell asleep and slept well and then woke up trying to figure out where I was.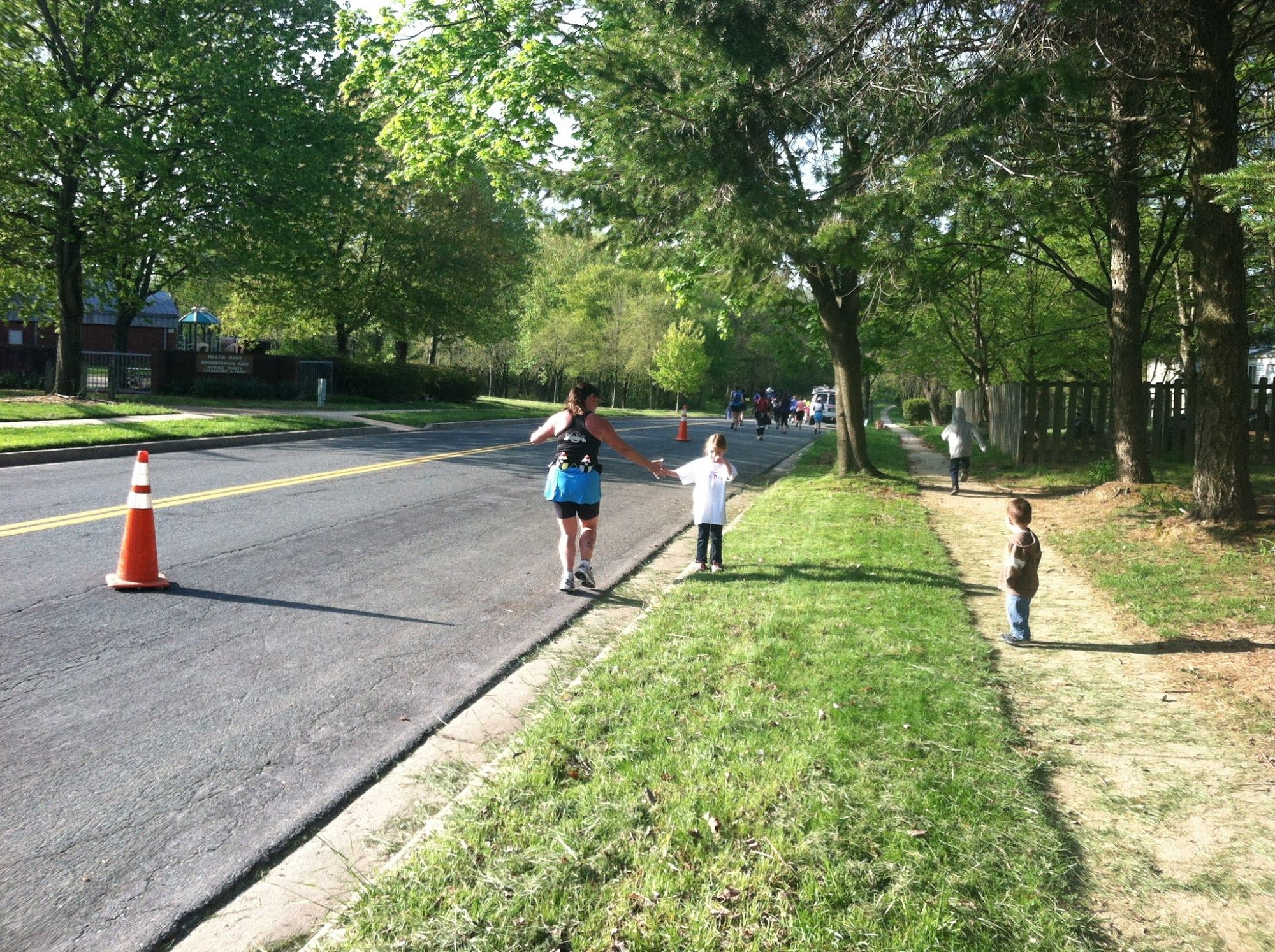 A. and I gathered our stuff, ate our breakfast and made our way to the race. The weather was so, so cold. It was in the 50s. I didn't want to wear too many clothes and be too hot, so I did my best to keep moving. Since A's race didn't start until after mine she graciously took my stuff when I went to the corral to get ready. I was so nervous and thought I would puke before I even started.  I ran into another woman while waiting in line for the bathroom. She looked equally nervous and asked me if this was my first half marathon. I could tell by her nervous demeanor, the fact that she wore her race shirt, and the new hydration belt we got in our goody bag that she might be a new runner. As a note, most veteran runners won't wear anything new on race day.  They like to run with what they already know...running outfit, hydration system, etc.  No one likes surprise chafe on a long race.  We chatted with each other and wished each other luck.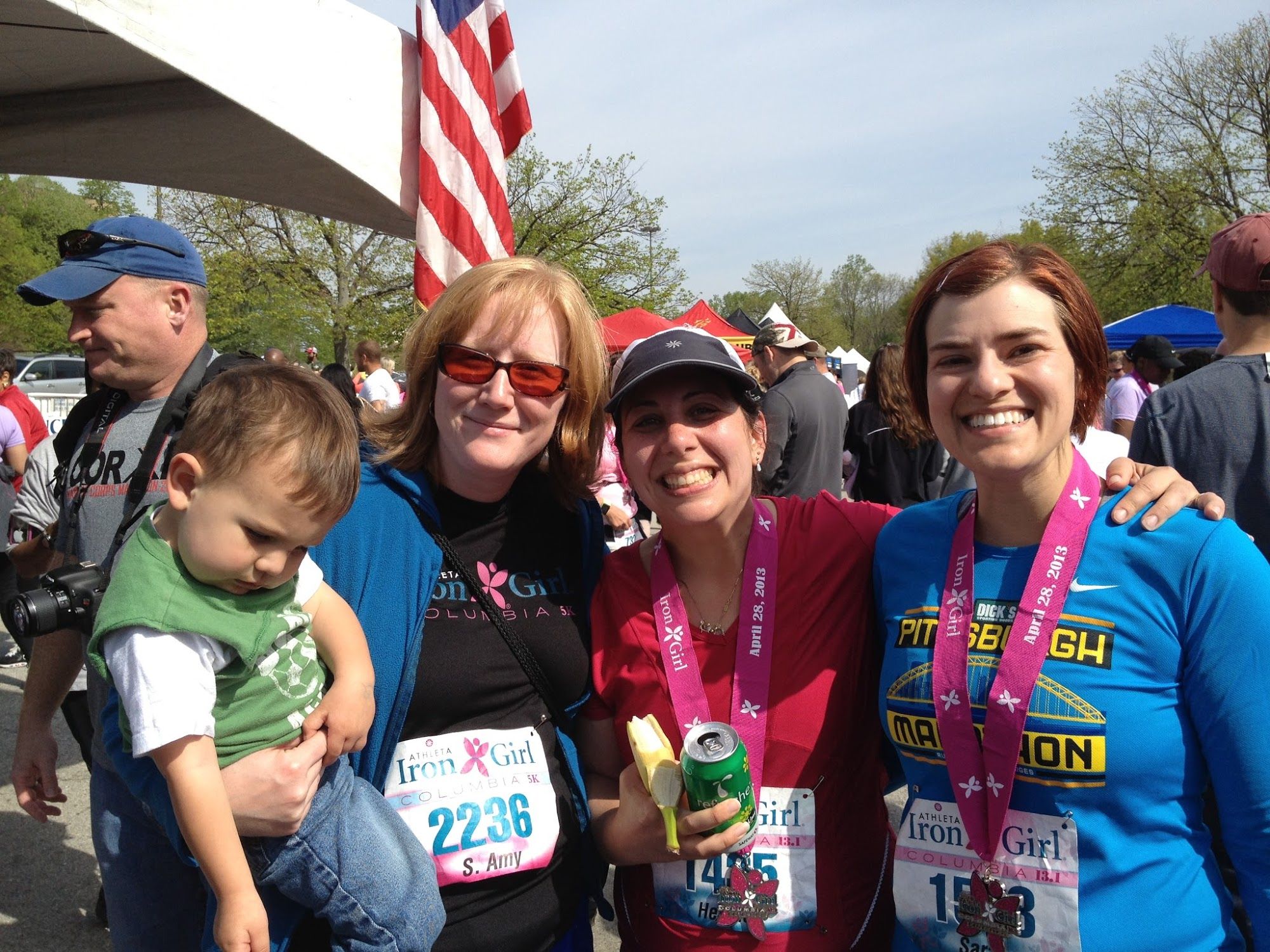 When I got to the corral I decided to follow one of the pace groups. After one last trip out to the port-a-potty and the national anthem we were off. And then I moved to the side and out of the way and stopped. My running app on my phone was not starting and I really, really wanted to keep track of my time since I don't wear a Garmin. I wanted to analyze my running splits after the race.  After about a quarter mile or so I finally got it to work.  And I was off, but much further behind the pace group than I would have liked.  The weather was perfect and I ran. After the first 3 miles I told myself that the next 10 were nothing but a training run and I could do that.  My brother-in-law later pointed out that my "training run" was after I had run 3 miles.  Yeah, yeah.  By mile three I could feel a large blister forming on the bottom of my foot and all I could think was I can't stop, I have 10 more miles to run. I powered through and tried to ignore the incessant rubbing on my foot.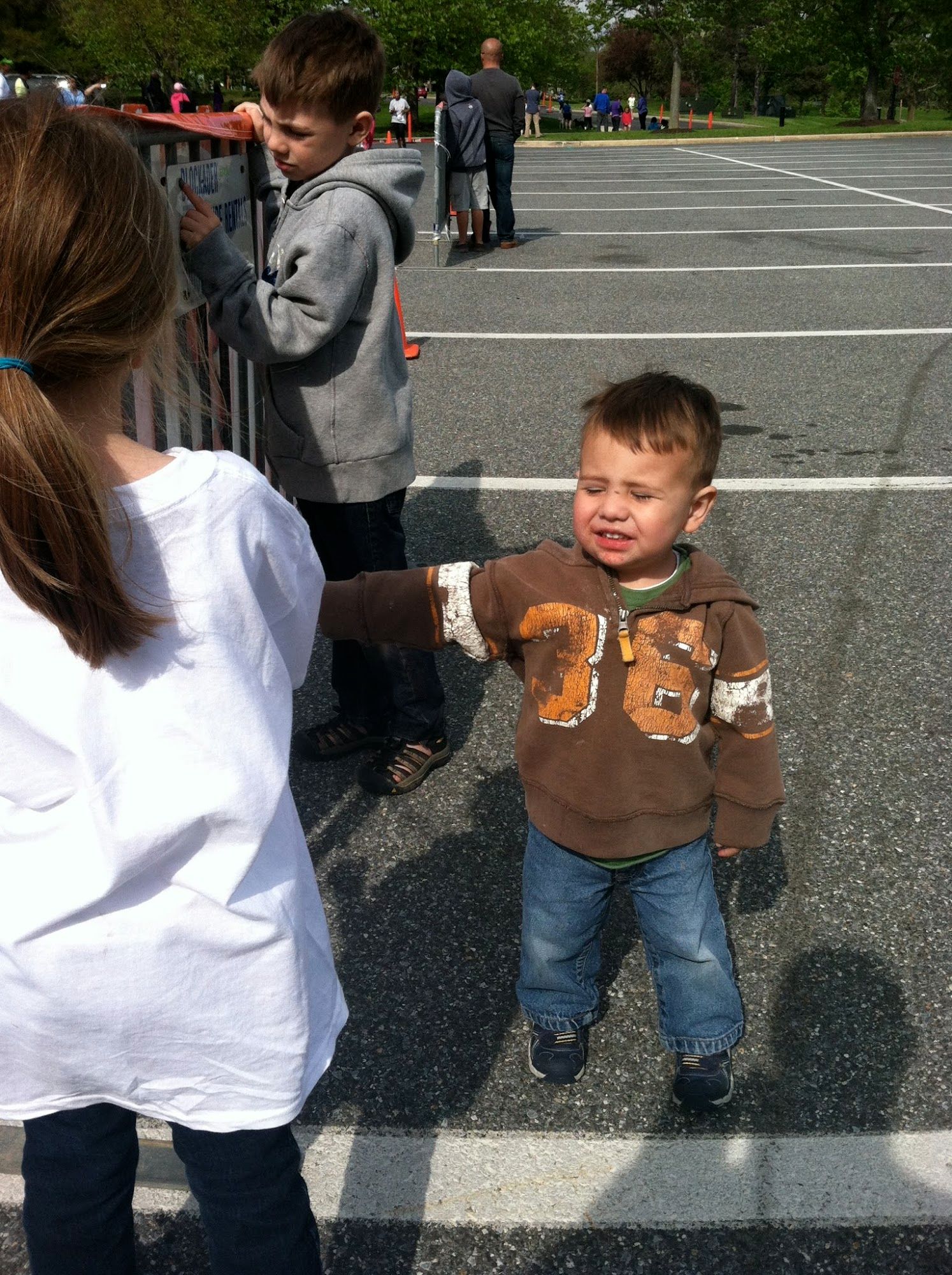 The course was hilly with lots of ups and downs. I don't think I did enough hill training to prepare for them.  I remember powering up a hill fist pumping as I listened to P!nk raise her glass. One of the older ladies warned me to slow it down, but I was fired up and feeling good.  We ran through several neighborhoods.  After the motivating crowds and spectators at a recent running festival, the lack of spectators was kind of disappointing.  Thank goodness for good music.  I did manage to find my pace group and kept up with them for a while and then I passed them.
I knew my family would be at mile 6 and I kept running. I wanted to see them. When I did, I sprinted towards them.  My husband waited until the elite runners had gone by before allowing the kids to stand and put their hands out for high fives from the runners.  My kids loved it!  They loved the attention and later throughout the race several women told me they loved seeing my kids at the half way point.  It was there that I decided to make my first pit stop and that was a mistake. The good part was that I got to talk to my family for 15-20 minutes while I waited in line for the lone port-a-potty and mile 6. The bad news was that I had to wait 15-20 minutes to use a port-a-potty and it slowed down my pace by a lot. I saw my pace group run by and I never caught up with them again.  I could have kicked myself later. Not half a mile down the road was a set of 3 port-a-potties without a line. I had scoured the website to find info on the facilities. I remember reading it on one email and never found it again.  So I didn't know that  I could have run a few more minutes and then been on my way. Oh, well. It was a learning experience.
After mile 6 I tackled the steepest hill I had ever run.  I knew it was coming and gritted my teeth for it.  On the hill there were some spectators and there was a sign that said, "Make this hill your b*tch." And I did. I ran it and I conquered it only to be faced with a longer, not as steep hill right after.  The cop helping out at the top of the first hill was really encouraging as we all faced that monster.  But I have to admit, by mile 10, I think I was done.  I kept running, walking some, running some more.  At one point, a woman wearing her Boston 2013 jacket called me by name and shouted out encouragement (our names were printed on our bibs). This was just a few weeks after the Boston bombing and I teared up thinking, wow, she just ran Boston and she's cheering me on? Inspirational!  She cheered for each of us as we ran by her.
After mile 10, I ran next to a woman and played cat and mouse for a while. I'd catch up to her when she started walking and tell her to keep going and that she was doing great. I'd pass her, run for a while, lose steam, and start to walk. She would run up to me and give me some encouragement to run again. We did this until I lost her around mile 11 or 12.  There was another woman I used as my pacer and tried to catch up with her. We ended up running the last 2 miles together. We hit another hill at mile 12 and decided to walk up it. We were spent.  At the top of the hill we started running together and talked and encouraged each other as we ran.  We talked about how we started to hate those that shouted that we were close to the finish line, knowing darn well we were still more than a mile way from our destination. It was the longest mile I ever ran.
As we entered the chute to finish the race Hubby and the kids were at the beginning. Buggy and Boogie jumped in to run to the finish with me. Unfortunately, Buggy bit it after a few strides in and everyone told Boogie to go back and help her. I waffled about running back to her or to keep going. Hubby told me to keep going and he would take care of it. Boogie was disappointed to be told to go back to his sister. I think that's my biggest regret in the race. I should have grabbed Buggy and carried her into the finish with me and I should have let Boogie finish the race with me.
My racing buddy and I sprinted to the finish and she beat me by several seconds. I heard my friend S. screaming from the sidelines and that gave me more motivation to keep going. I sprinted in and finished the race.  I was given my finisher's medal and someone walked me to the side and took off my racing chip for me. Thank goodness for that, I didn't have the energy to bend down and do it myself.  I met my family and my friends at the finish line, happy, proud, sore, and exhausted.  I finished 45 minutes faster than I dared hope. I finished in 2:44:20.  Not the best time, but I'm still proud, because I trained, I made it to the start line, and I finished.
I found the two women I had been running with for the last part of the race. I told Joy it was a joy to run with her and I thanked for pushing me the last two miles. The other woman Hadley told me that I pushed her to run faster and thanked me and I thanked her for her encouragement along the road. I never found the new runner Deborah whom I had met earlier in the morning. But I saw that she finished with the pace group with whom I couldn't keep up, darn single port-a-potty line. But awesome for her for keeping up!
As I begin to rest for my race on Sunday, I'm a little nervous. I feel the beginnings of plantar fasciitis in left heel.  I desperately want to go for a run kind of like a last minute cram session before a big final. But I've trained hard and I've trained moderately well. My training times haven't been great, but if I rest my foot for the next two days and give my tired legs a rest I should be fine. I'm also running with my dad and he is a great pacer. I look forward to running with him. We decided to run sans music and headphones. Just him and me and 2,000 other runners.  It should be a good race. I have to finish within 2:45 before they shut down the course. Even though my training times have been lousy, I have faith that I'll make it in at least 2:44:20.  Happy Running!