Why We Do Summer Swim Team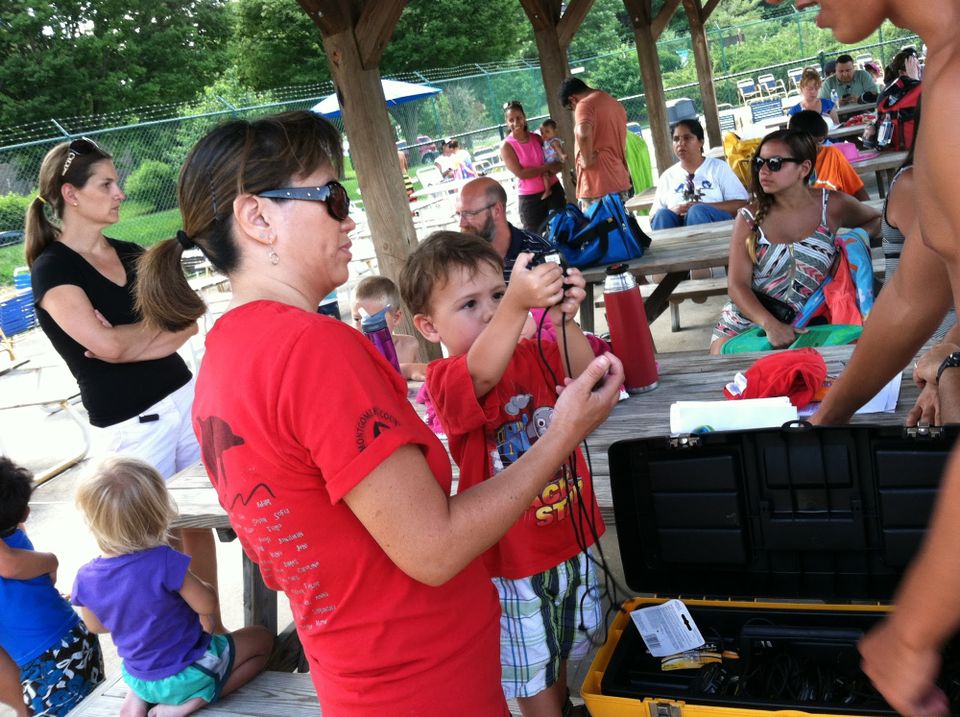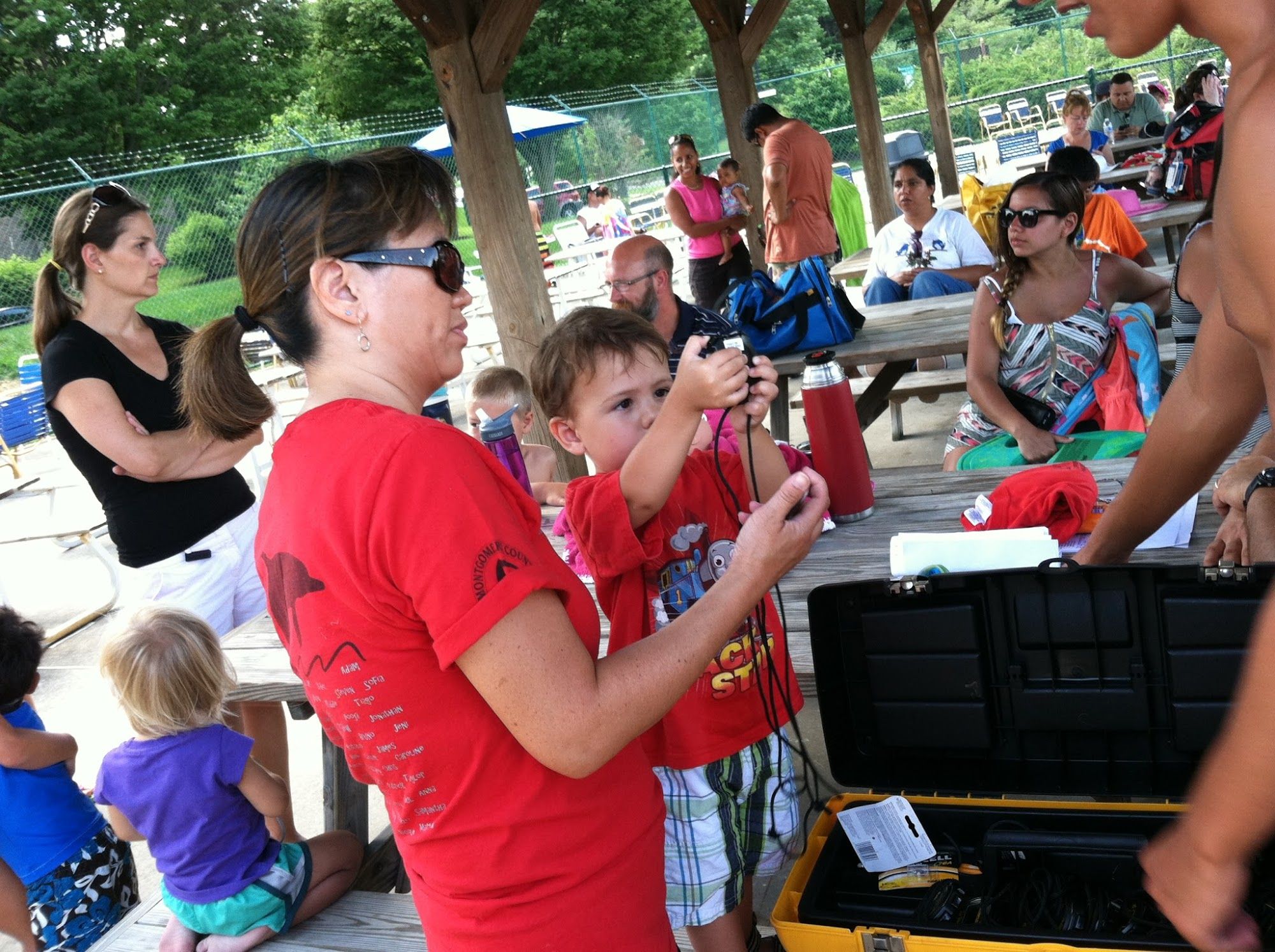 My friends have looked at me incredulously at the beginning of the last three summers. When they have asked what we are doing for the summer I have told them that we are doing summer swim team.  They can't believe that we have practice every morning.  "You can't have practice every morning!" "Yes, yes we do. And now that Boogie is swimming in meets we are up and at the pool on Saturday mornings and Wednesday nights."
They think I'm crazy. They think we spend a lot of time at the pool (and yes, yes we do). They think my kids can't possibly enjoy being at the pool every morning. They actually do.  Boogie loves the water and Buggy has enjoyed learning how to swim and improving her skills. Mr. Bananas thinks everyone is his friend and in a way they are. He's kind of like the team mascot or at least comic relief.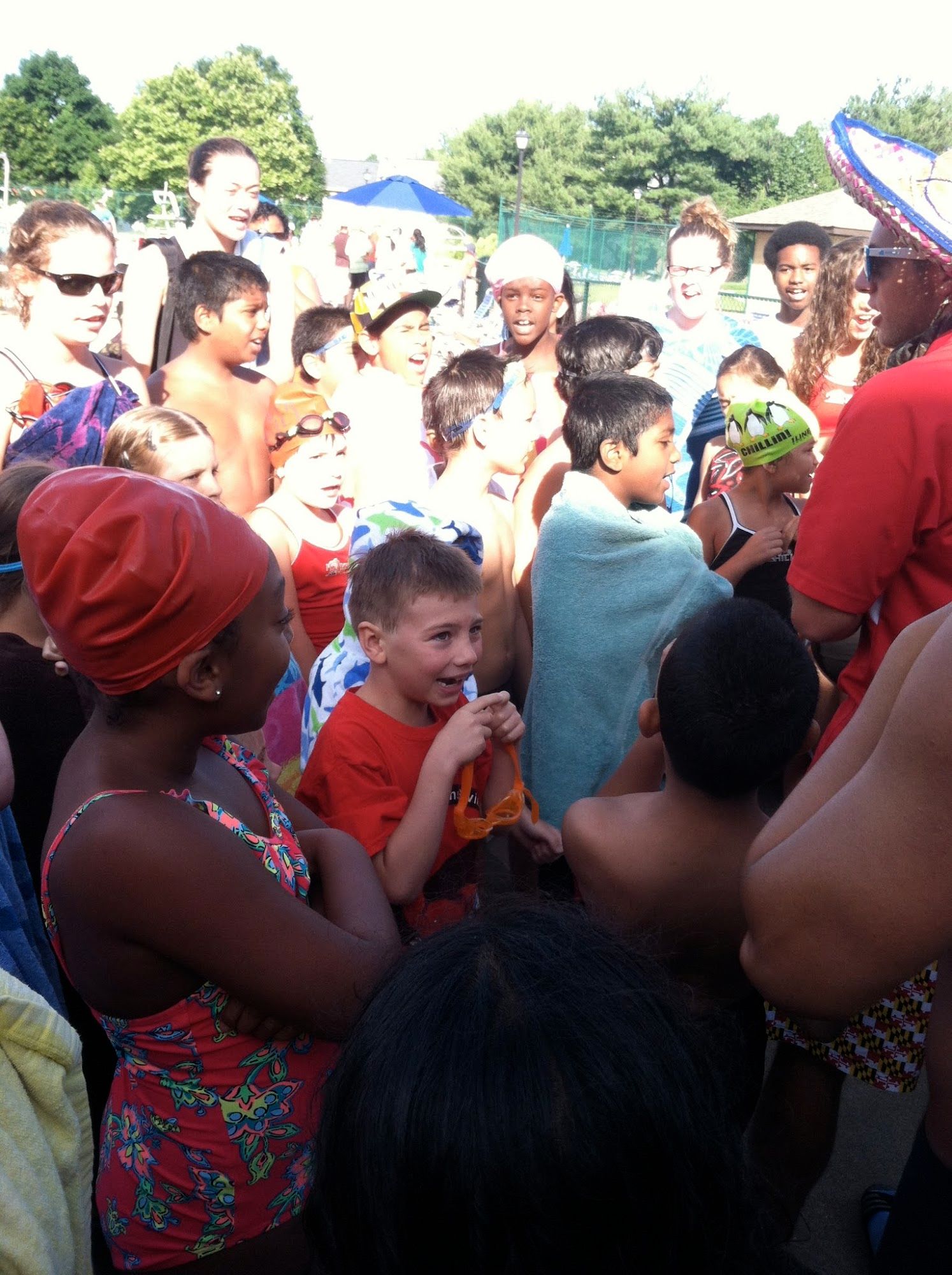 My friends think it's way too much of a time commitment and that it's too much work.  You pay to have your kids on a swim team and then you have to volunteer your time, too?!?  Yes. Yes we do.
When I was in the middle of third grade my parents moved us across the United States for my father's job and it just so happened to be in an area where summer swim team was a big deal.  I was at least 8 years old and I couldn't swim. My father being a deep sea diver thought that summer swim lessons would be a good thing for me.  Since I couldn't swim across the pool I was with the 4 and 5 years old learning to blow bubbles and put my head under water.  But I stuck with it. I learned how to swim and swam in B meets. I was never a an "A" meet swimmer and only made it in the "A" meets if someone couldn't make it and they needed another female swimmer in my age group.  I didn't have speed or a lot of skill but I had heart.  Just about every year I was on the team I was given some type of "Cheer" award for encouraging others and being willing to do whatever. Why did I do it? Because even though I wasn't very good, I loved swim team. I loved being in the water, I loved swimming, and I loved being a part of a team. I loved cheering on my friends.  I want my children to experience the same. I want them to encourage and be encouraged. I want them to have fun. I want them to experience being a part of a team and being a team player, while at the same time setting and breaking personal goals.  And let's face it, swimming is a life skill.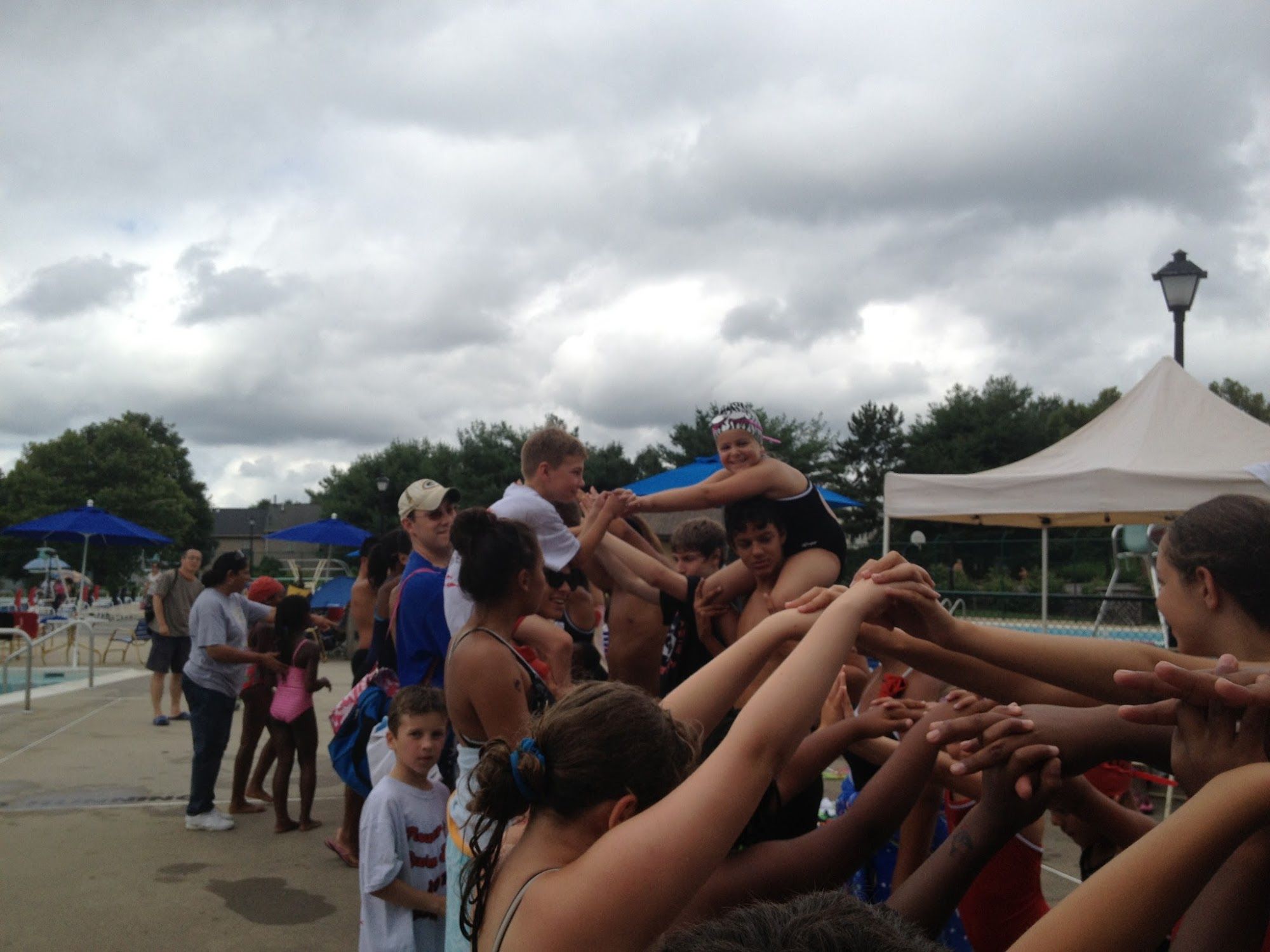 I have fond memories of summer swim team. Of early morning practices and meets. Of seeing my parents at the end of the pool volunteering their time as timers. Of my dad coming straight from work in his khakis to make it in time to see me or my brother swim at a home meet.  Of my mom volunteering at concessions or being the ribbon writer.  Of earning a ribbon...even if it was a finisher ribbon. Striving for a goal and not giving up.  They are fond memories. While I have given up my swim cap for a pair of running shoes swimming is still my favorite sport.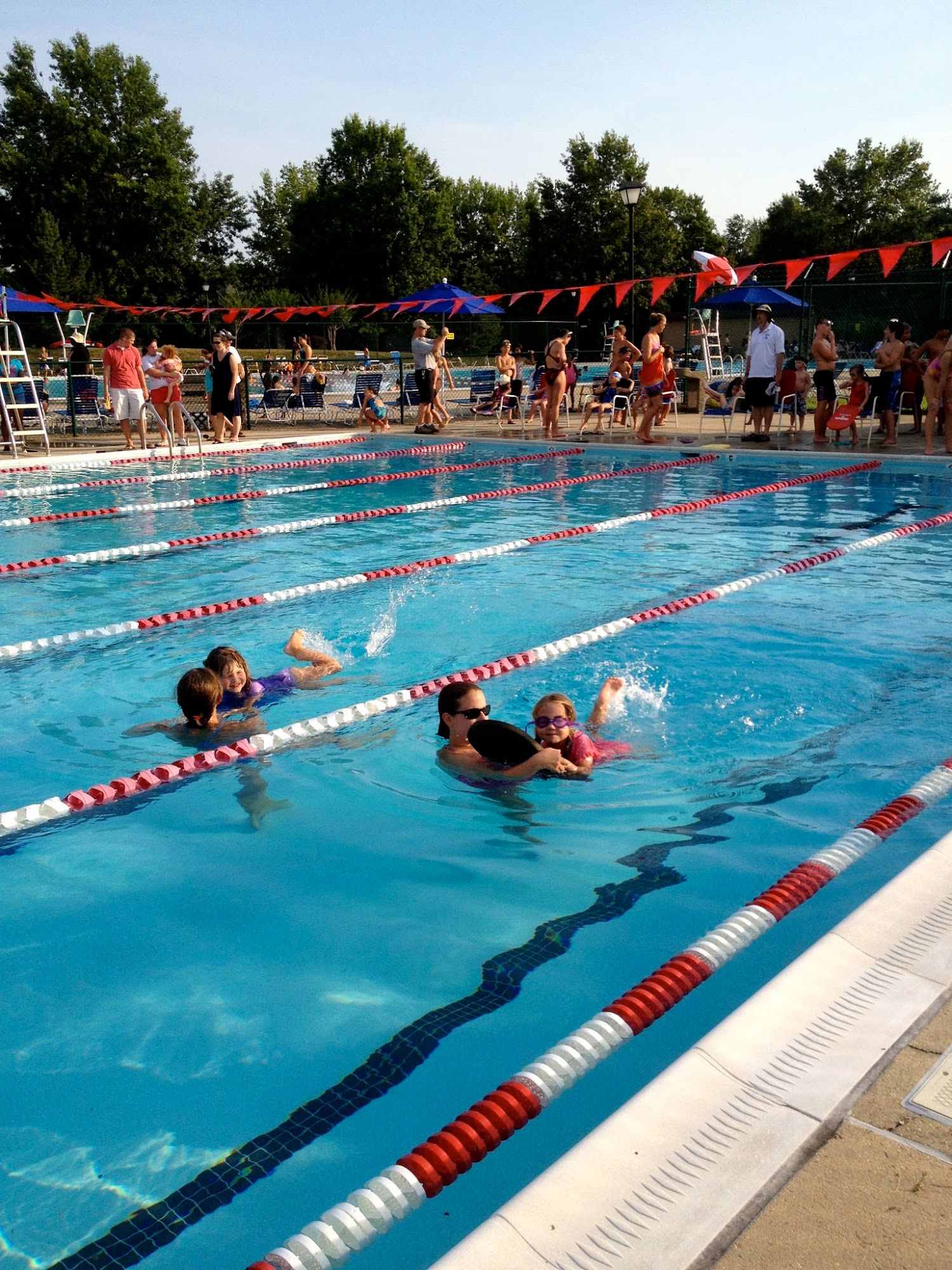 My friend Valerie and fellow swim team rep writes her own version of  "Why We Do Swim Team" that captures the essence of why we do it.
So while Summer is nearly over, the kids are still practicing their swimming skills at the beach or at the pool. We see our fellow team mates and coaches at the pool and there is a sense of community.  While I am happy to not have to hustle the kids out of the house for the next two weeks and take things a little easier, I look forward to next year. To another swim season filled with goals, dreams, friendships, and community.
Swim on and swim hard.