Mr. Bananas at 10 Months (belated)!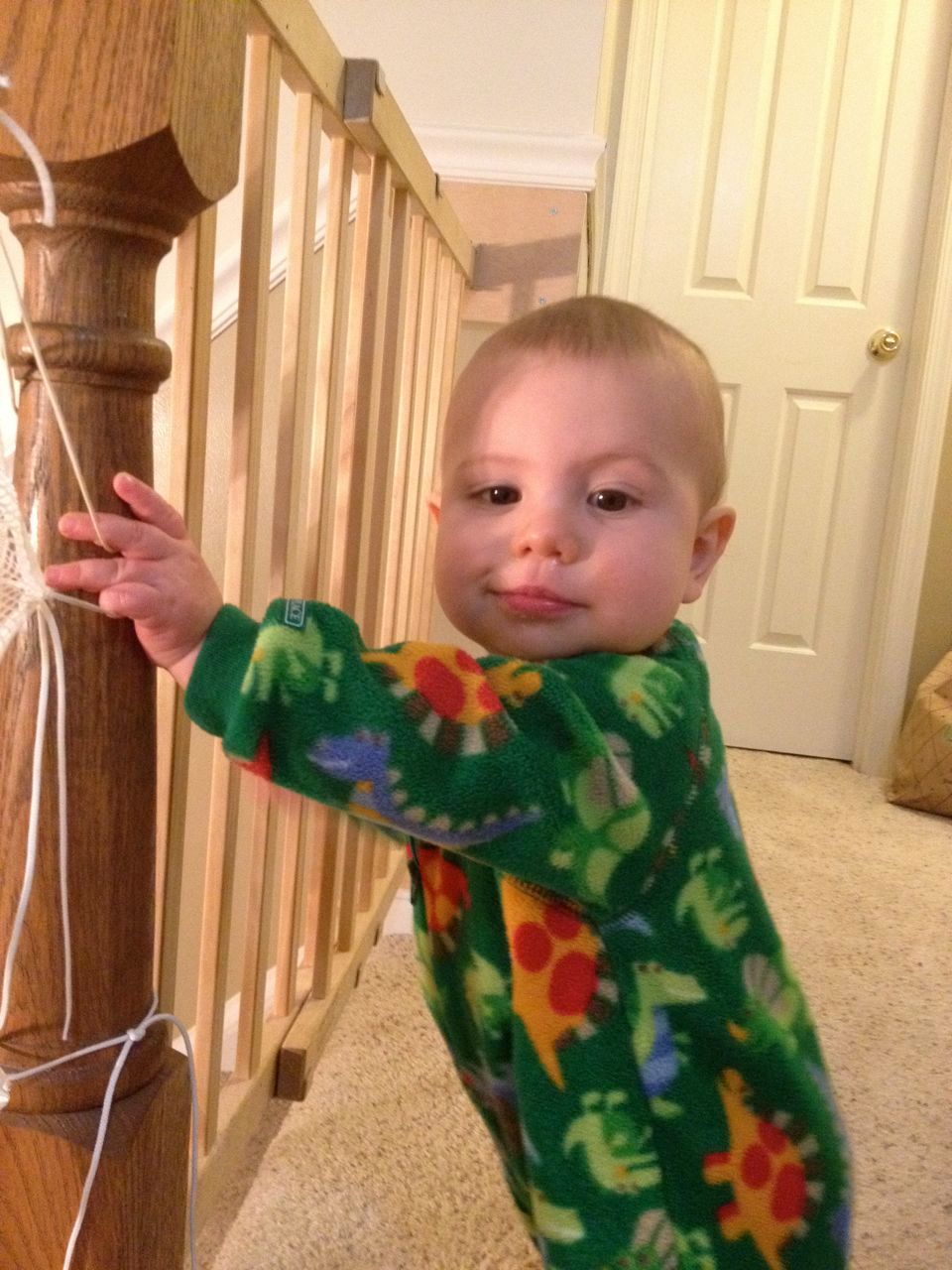 Two posts in two days?!? Yes, I am really trying to make an effort to get back into my writing. What better way than to do an update on Mr. Bananas.
I have been asked by several people...Why Mr. Bananas?  I chose the nickname because he received a lot of cute monkey outfits right after he was born. Everything I put him in had a monkey(s) or had some cute saying about being "bananas over mommy" and every time I would set him on the changing table and talk to him I would say in an obnoxious and nasaly voice that he loved, "Hello, Mr. Bananas." His giggles cemented the nickname.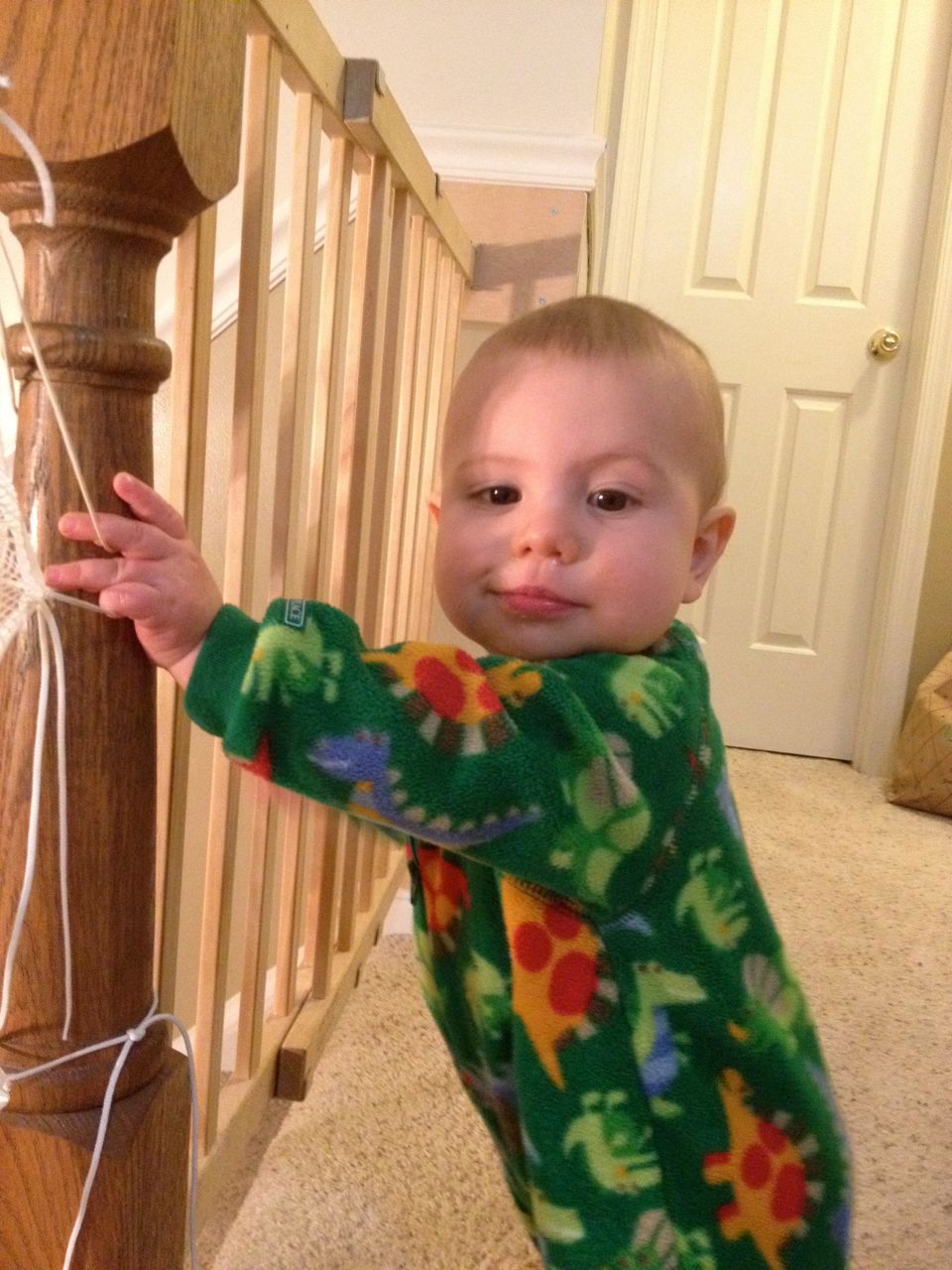 At 10 months, Mr. B. was pulling himself up a ton all over the house. He loved that he could do it and now would rather be standing somewhere that sitting.  We keep a wicker basket of baby toys in the family room and when we want to deter him from heading for the tv I would put the basket in the middle of the floor. He enjoyed sitting down and going through the box as if it was a new present every time.  With 10 months came his first Christmas celebration. He sat patiently on Santa's lap while Hubby took pictures. He seemed nonchalant about the whole Santa thing.  By 10 months, if he wasn't pulling himself to a stand he was busy crawling all over the house. It took a few non-injury tumbles down the one step into our library before he became adept at turning his body over at the last second to slide down onto his tummy.  Now it's second nature to him to ease himself into the family room from the kitchen.  He met his  uncle (my brother) for the first time right before Christmas. As with all kids, Uncle Bing was a hit and Mr. B. loved getting extra attention.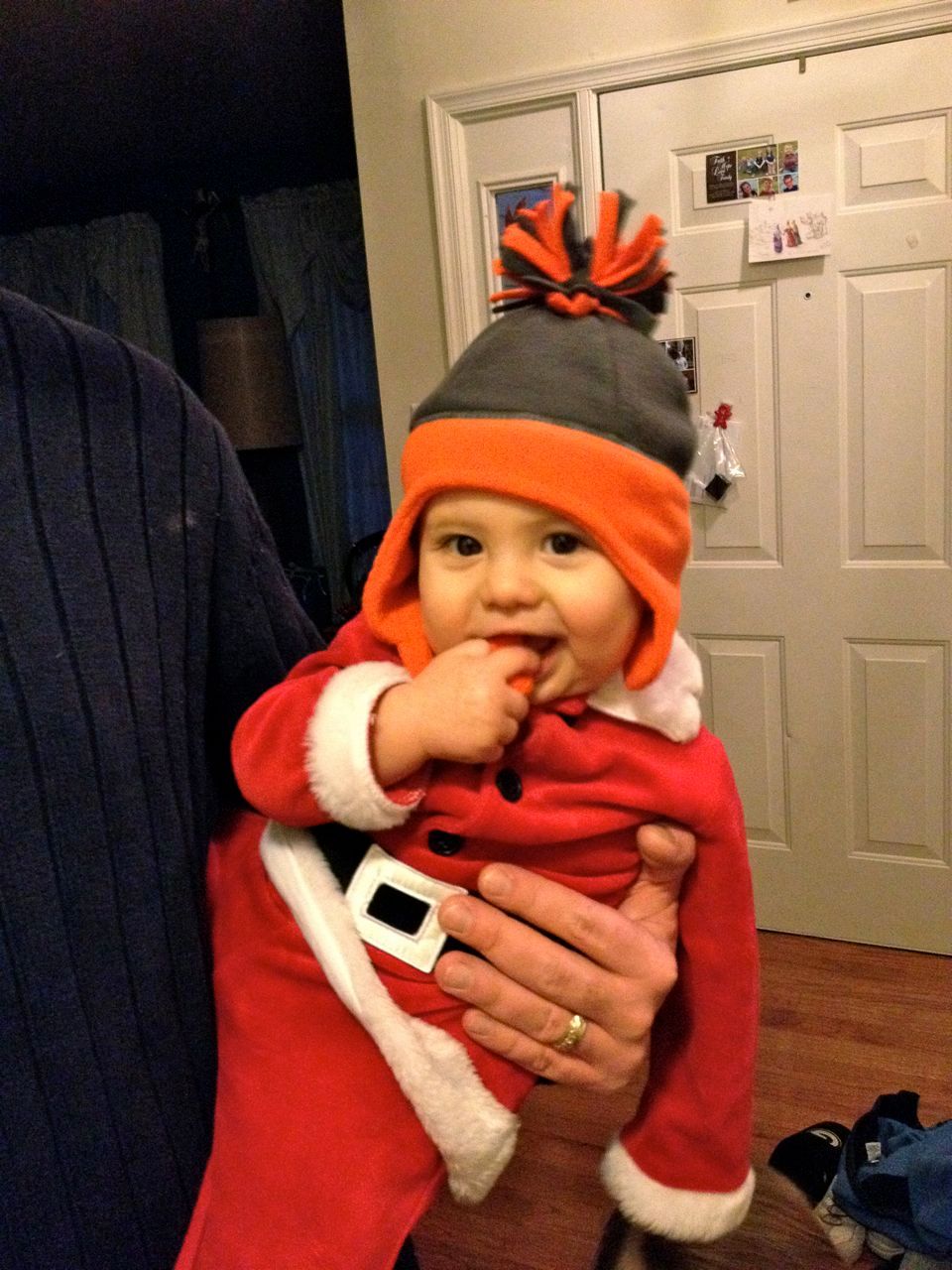 The week before Christmas we delivered gifts for the convent where we have "adopted" a nun for Christmas for the past two years.  Mr. B. was a big hit with the Sisters, most of whom were in their seventies. They enjoyed holding his hand and getting a smile. We also made a stop into the infirmary and his presence brought a smile to those who could not make it down for the celebration.  The week after Christmas we also made a stop at a local nursing home and went caroling around the corridors.  This was the nursing home where my husband's beloved Great Aunt Mickey spent her last days almost 6 years ago.  They had taken wonderful care of Aunt Mickey and it was nice to give back to the other residents with some singing and good cheer. Mr. B. dressed in an adorable Santa suit (a gift from his Filipino relatives) was carried around by Hubby and visited many rooms. Again, he was a big hit.
His favorite person continues to be his big sister and I don't think that will change anytime soon.  His big brother adores him and loves to try to play with him. Between the big kids, I know that Mr. B. is in good hands.