Halloween 2012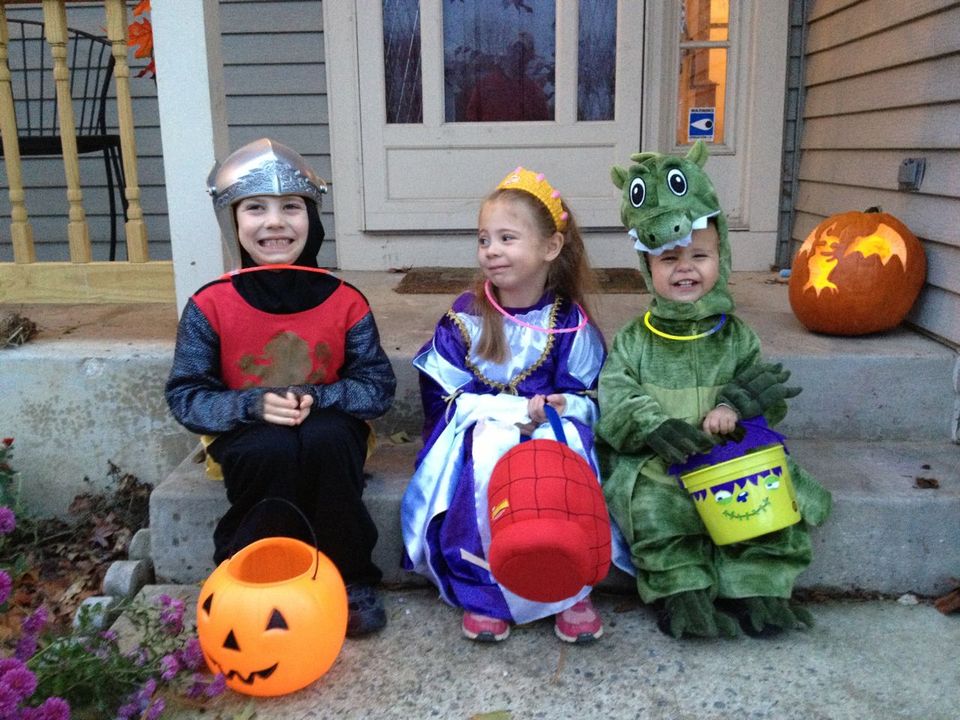 How does Halloween sneak up on me every year? Seriously? I knew that it was coming I had some ideas for costumes. We thought about being Wild Kratts. The big kids already had the t-shirts I made for Boogie's birthday party and I could make one more for the baby or he could be a komodo dragon (we have a dragon costume. HA!). Daddy would be Jimmy Z and I would be Aviva.  I considered making us the Incredibles as we had the right number of family members and the costumes wouldn't be terribly hard.  But easiest would be for Boogie to be Saint George, Buggy would be Princess Hope, and Bananas would be the dragon.  Both big kids fought against it.  Boogie wanted to be one of the Avengers, and Buggy insisted on being the Incredible Hulk. Ugh!
However, my sister-in-law saved the day a few weeks before Halloween by bringing a costume for Boogie and explained that her son had been King Peter from Narnia when he wore the costume a few years ago. As a result, Boogie broke out our Chronicles of Narnia audiobooks and listened to several books over again as he geared up to being King Peter.  Buggy was harder to convince and even up to the night before Halloween she insisted on being the Incredible Hulk. I even considered breaking down and buying her a "Hulk" t-shirt and buying green face paint, but my money saving side won out and I insisted she wear a princess costume we have had sitting in her dress up bucket. After Boogie put on his costume and I allowed her choose her own crown, she was down with being Queen Susan of Narnia.  As we already had a dragon costume, Bananas was the dragon from Voyage of the Dawn Treader.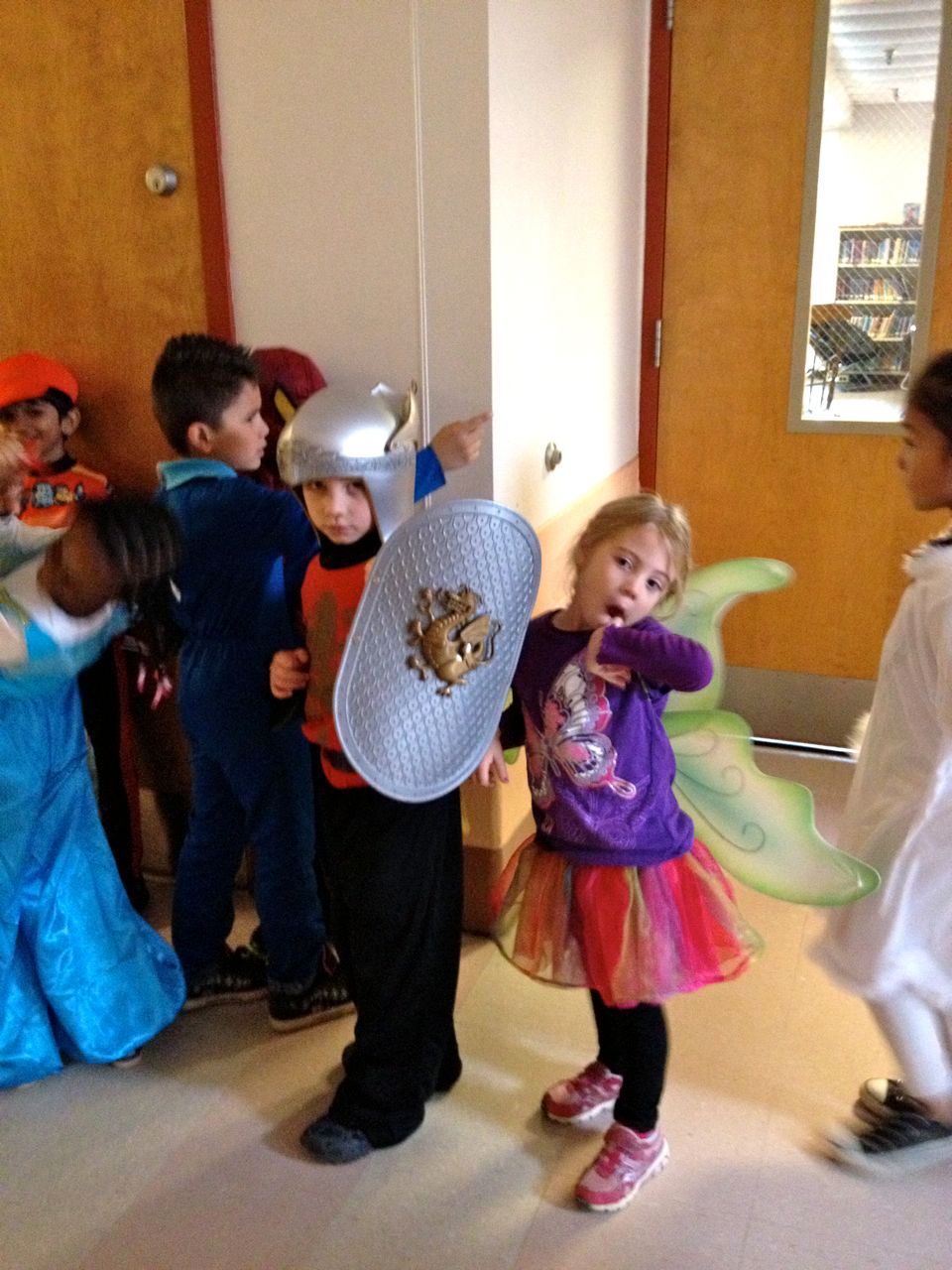 Halloween celebrations began with an afternoon party at Boogie's school.  We had just enough time to pick up Buggy from school and eat lunch before we raced off to decorate Boogie's classroom. I met up with another Mom (also a former teacher) and began the set up. We had decorations and a craft project for the kids.  We worked well together and we were ready to go with the flow.  The kids came back before we were ready, but his teacher went with the flow and switched some things around. We gave the kids their craft projects and they made "stained glass" using halloween cutouts and tissue paper. A big hit, but a little more difficult than we had anticipated, but it all worked out. While L. and I worked with the kids, the teacher had the students dress in their costumes. There was a nice flow to the party so that we were able to work with the kids in small groups and everyone finished a projected and was dressed before the parade.  L. and I finished decorating while the teacher read two stories to the kids. I loved seeing the parade and watching my two kids go around the school. Bananas hung out on my back in a carrier and enjoyed the scene around him.  The party was a success and exhausting.  My little kids headed straight for naps as soon as we came home.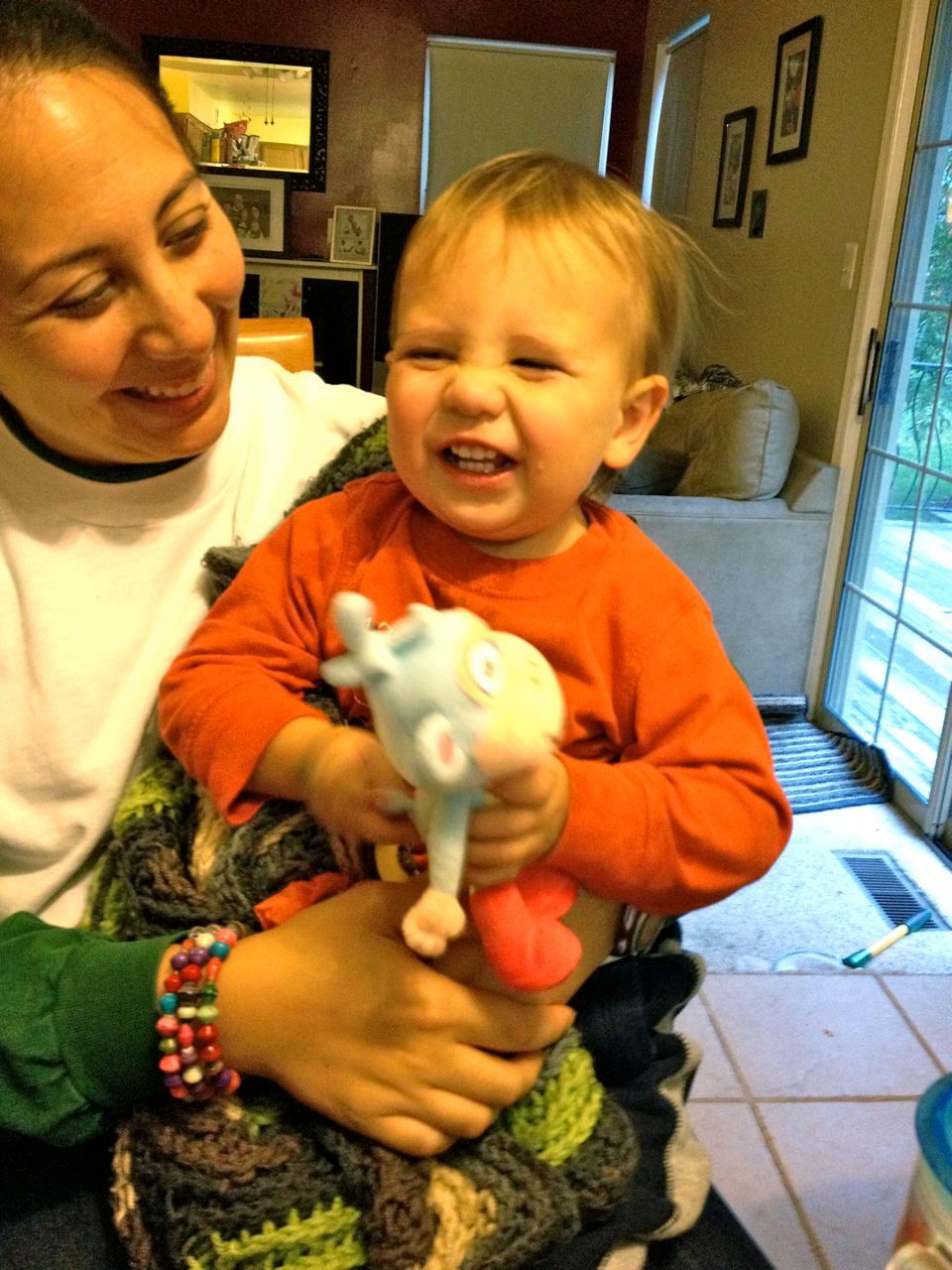 We had a nice surprise from the Epitos who stopped over briefly to bring treats for the kids.  It was incredibly sweet for them to think of our little ones on an exciting day.  Each kid was given s small hand-held stuffed animal. Bananas was given Boots, the monkey from Dora the Explorer. He has slept with it every night since Halloween and loves it.  Buggy took Dots (a little ladybug) with her to her cardiology appointment, and Safari hangs out in Boogie's window next to his bed. Thank you Epitos!
Boogie had soccer practice on Halloween night, but I hate driving on Halloween with so many people out and walking about we skipped it.  Instead, Hubby came home early and we ate an early dinner. The kiddos put on their costumes and I made them sit through a ton of pictures. They were pretty good natured, but totally ready to go trick or treating with the neighbors.
I ended up going trick-or-treating with the kids this year. Usually I hand out the candy. Usually we have a little one that can't go out yet and I stay home with her/him.  But this year all 3 kids were rarin' to go.  Bananas walked to each house saying, "teet, teet, teet."When he got to the house someone would hold out the bowl of candy for him and he would dig both hands in and come up with one candy. I would ask, "Can you say, thank you?" and he'd nod yes. He'd finally sign "thank you" and blow kisses as he said, "Byyyyyyye" in a sing song voice.  The big kids went way ahead with the next door neighbors, but the other mom kept up with them as Bananas and I brought up the rear. He sat in the back part of our stroller so I didn't have to strap him in. I tried to bypass a few houses, because really how much candy does a 20-month old really need? But nothin' doin'. That little stinker would get out of the stroller while it was still moving and march himself up to each house and loved it!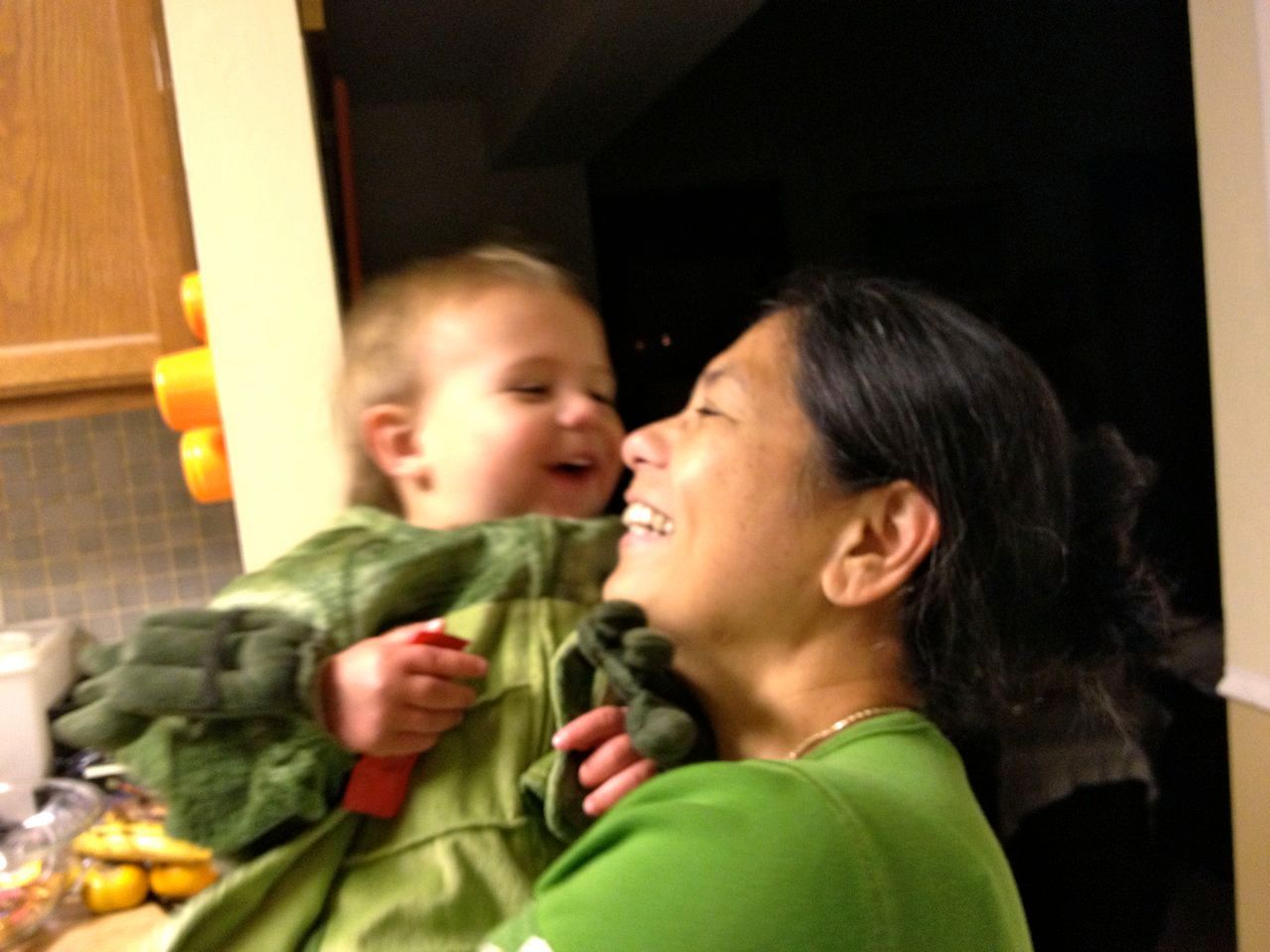 As our group passed other families in the neighborhood, we ended up joining our groups and by the end of the night, there were four families all together:  13 kids and 8 adults. I really liked the sense of community and how we all watched out for each other's kids.  After 1 mile and more than 2 hours of walking the neighborhood I walked my kids home where Hubby took over and drove them to my parents' house for their treats. My parents love seeing the kids in their costumes and answering the door to them. I'm grateful that we live close enough where we can have that experience.  I stayed home for  candy duty.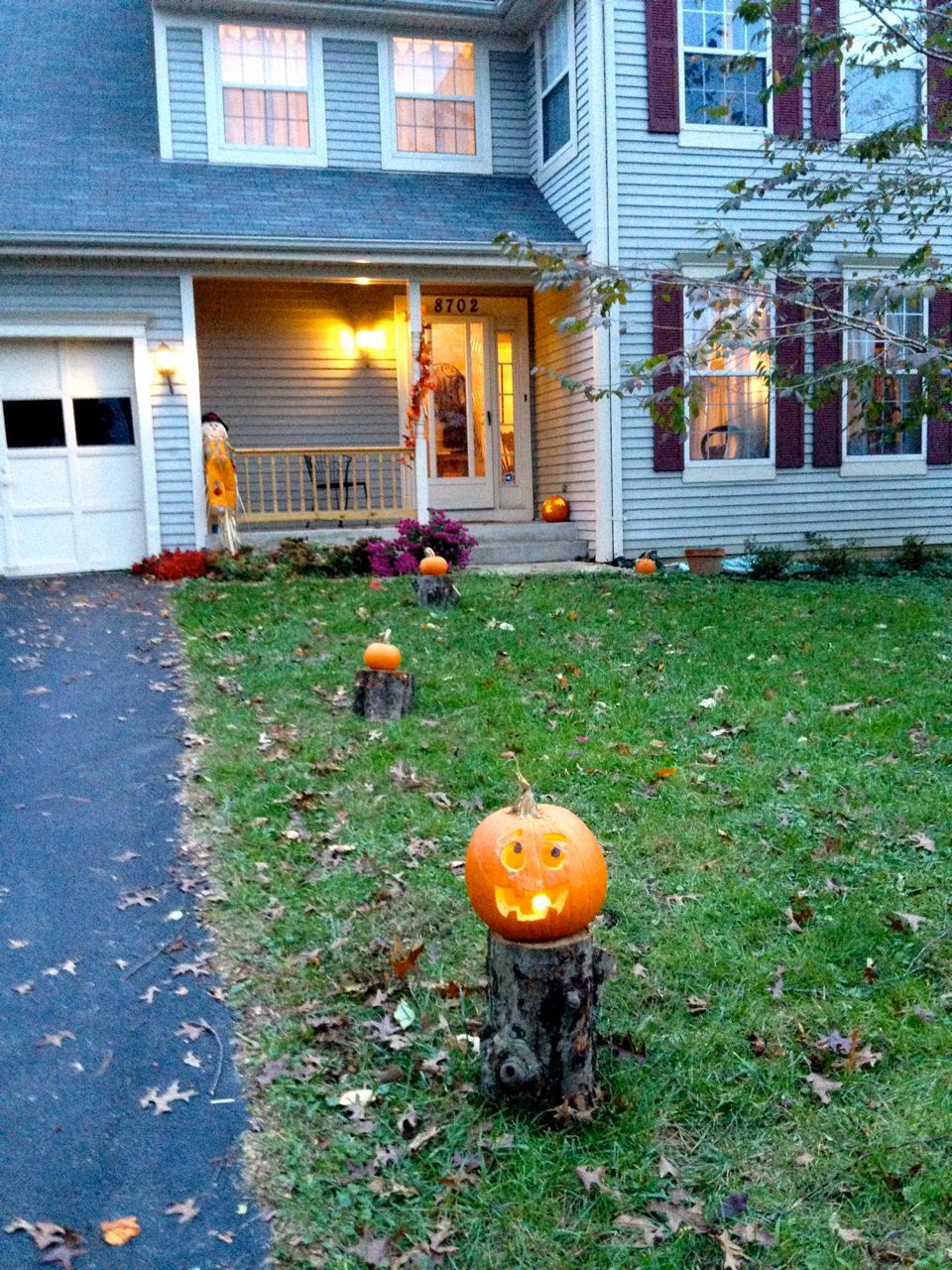 It was an amazing day filled with fun and exhaustion.  I am so blessed that I get to share these experiences with my kids. Boogie was so excited for me to come to his school and help out and that made my day even more special. I loved doing things for each of my kids that make them feel special and loved.  And, I'm glad that Halloween is only once a year ;)