Date Night! 1st Father-Daughter Dance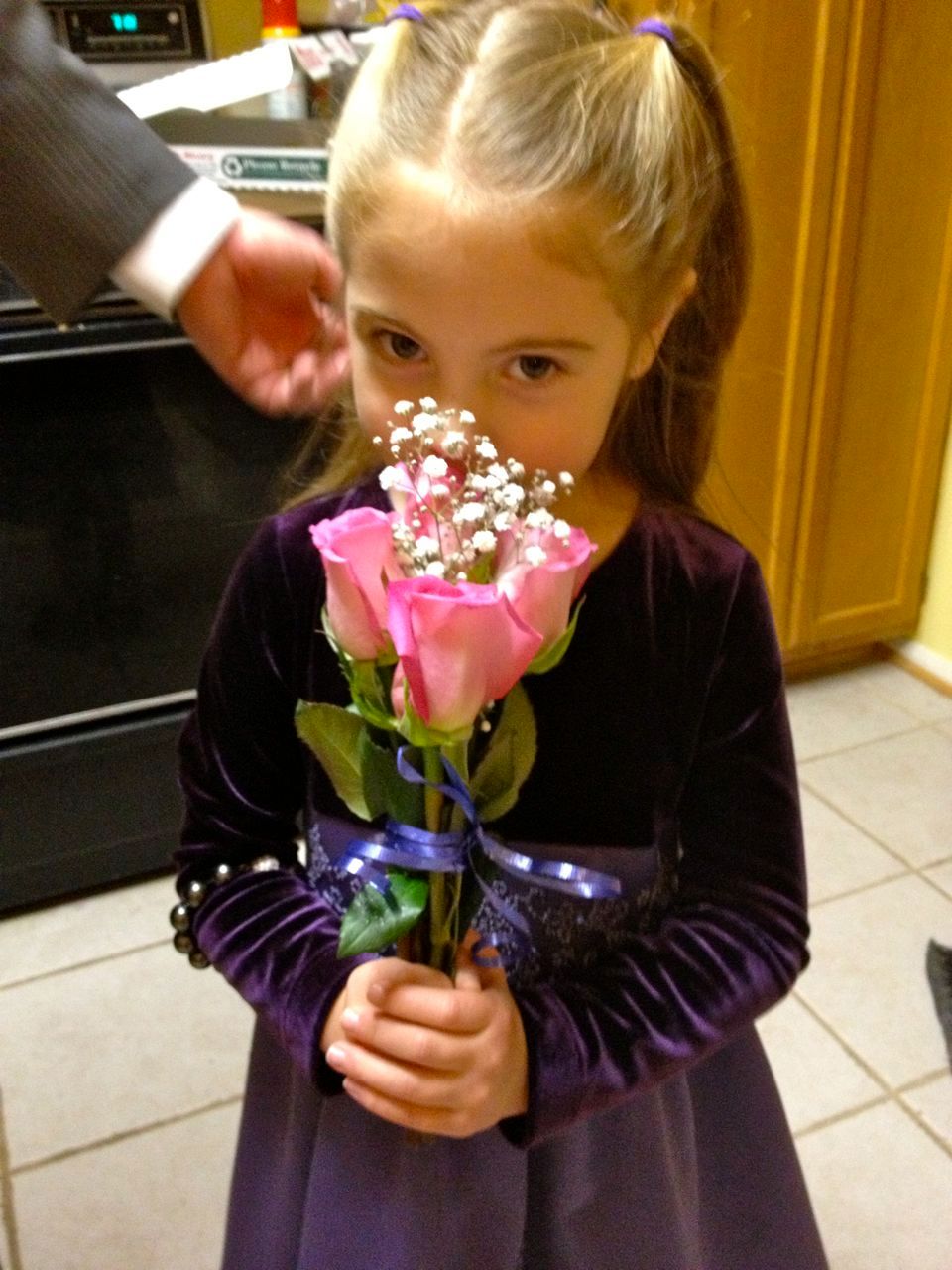 My husband is quite smitten with another lady with blonde hair and blue eyes and I'm okay with it.  His heart is quite taken with a certain four year old.  His heart is captured by his daughter.
This year Hubby invited our daughter to her first Father-Daughter dance held at our church.  He considered taking her last year, but his job had other plans and he ended up traveling for work missing Mr. Bananas' 1st birthday, missing a father-daughter dance, and missing Valentine's Day all of which were in the same week.
However, this year he more than made up for it by bringing home beautiful hot pink roses tied in a purple ribbon to match her purple dress. He dressed up in a suit and tie and she wore a favorite dress.
When I asked Buggy if she was excited she said, "YES!  I get to eat pizza and ice cream!  And I get to spend time alone with Daddy and I never get to do that." Are you going to dance? "Yes!"  Do you think Daddy will dance with you? "Yes! Because he loves me and he wants to dance with me."
The two of them had a blast eating pizza and ice cream, dancing to fast songs, dancing the chicken dance, hula hooping, and doing the limbo.  I received a text from my Hubby saying that they had shut the place down.  They stayed the entire two hours well past Buggy's bedtime, but well worth it. She announced their arrival when they came home declaring how she had eaten pizza and ice cream and danced and danced.
While Buggy and Hubby enjoyed their date night, the boys and I spent the evening watching a documentary on Yellowstone Park (Boogie's choice). I was pushing for The Muppets Movie. When I suggested the muppets he said, "Okay, Mama, if that's what you want." But I promised Boogie he could pick out the movie so we found something else. Sometimes I feel like I'm the "Us Weekly" to his "Scientific American."
The boys enjoyed learning about Yellowstone Park and I was able to cuggle with each of them. I said prayers and put the boys to bed.  I told Boogs he could sit in bed and read while he waited for Buggy to get home. His response?  "I can't sleep without Buggy. The house is too.....quiet." A surprising comment from my sweet boy who also proclaims his sister is so annoying.

It was a wonderful Friday evening for all of us and I'm so glad Hubby and Buggy were able to spend some time together. Both had huge grins on their faces when they came in the door. I enjoyed my time with my boys and look forward to another date night.