Bean at 6 months old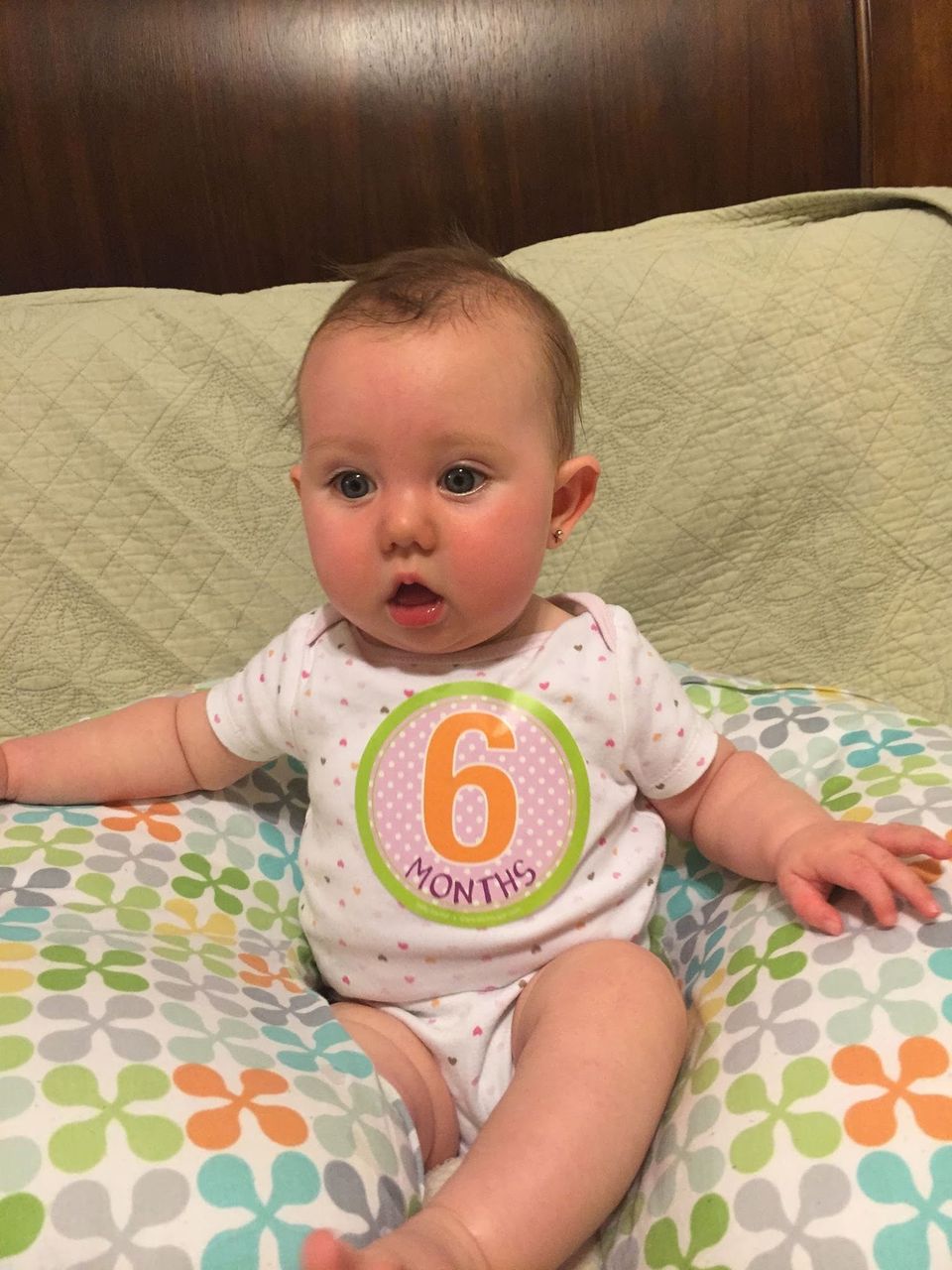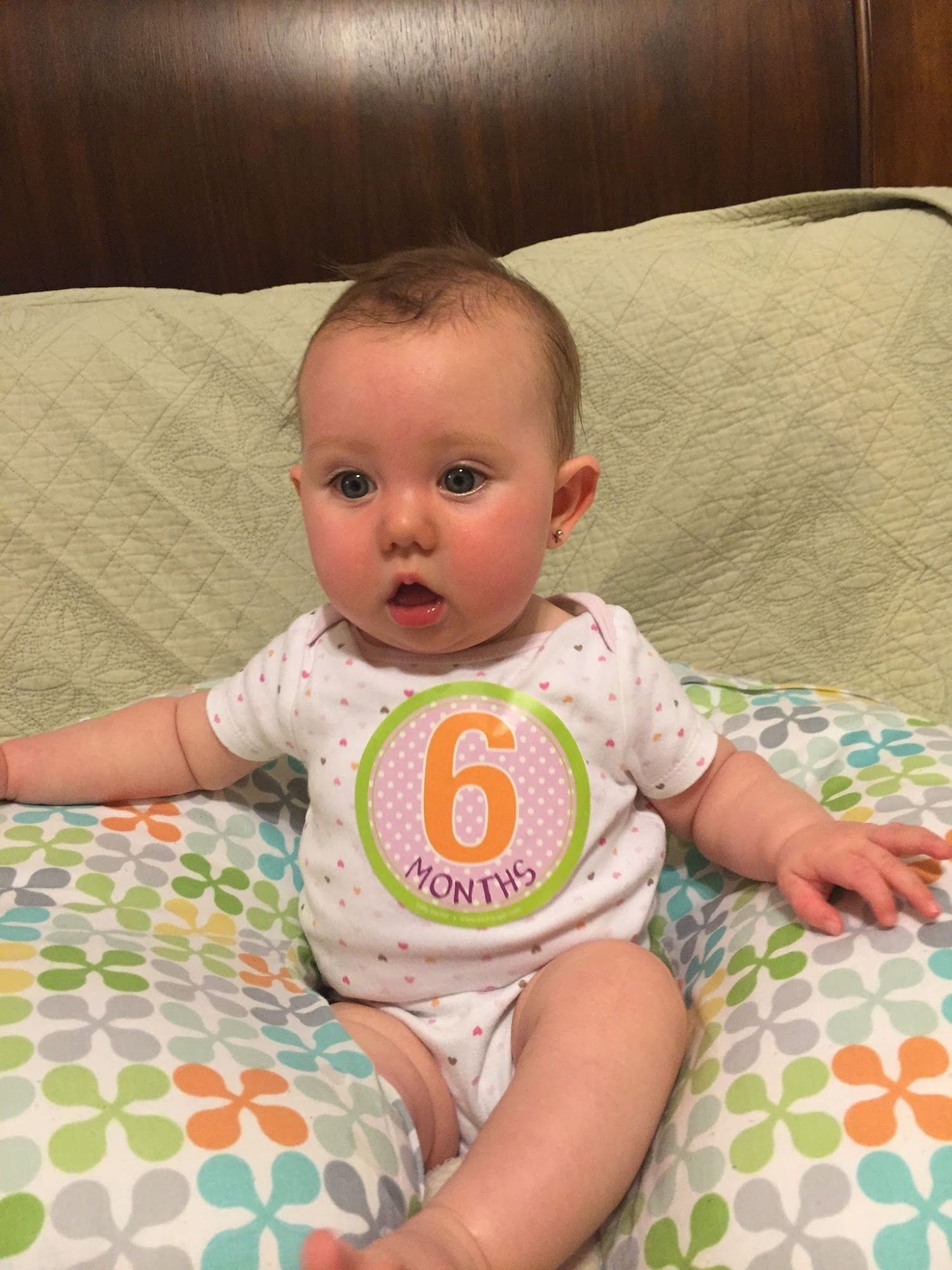 I don't know how it's possible that I haven't blogged in almost 6 months except, well I have four kids and one is a baby. We keep busy and I try to document as much as I can on my phone.  Thank goodness for social media and that I can look back on pictures on my phone and share the experiences of the past 6 months.
I have to say that Bean has been a great baby and life is going really well. It doesn't stop, it doesn't slow down, and if anything it seems to go by faster with the more children we have.  I attribute it to the big kids and all of their activities. The more they do, the less I'm home. But I will say that while I'm not blogging everything, I am experiencing it and really trying to be in the moment.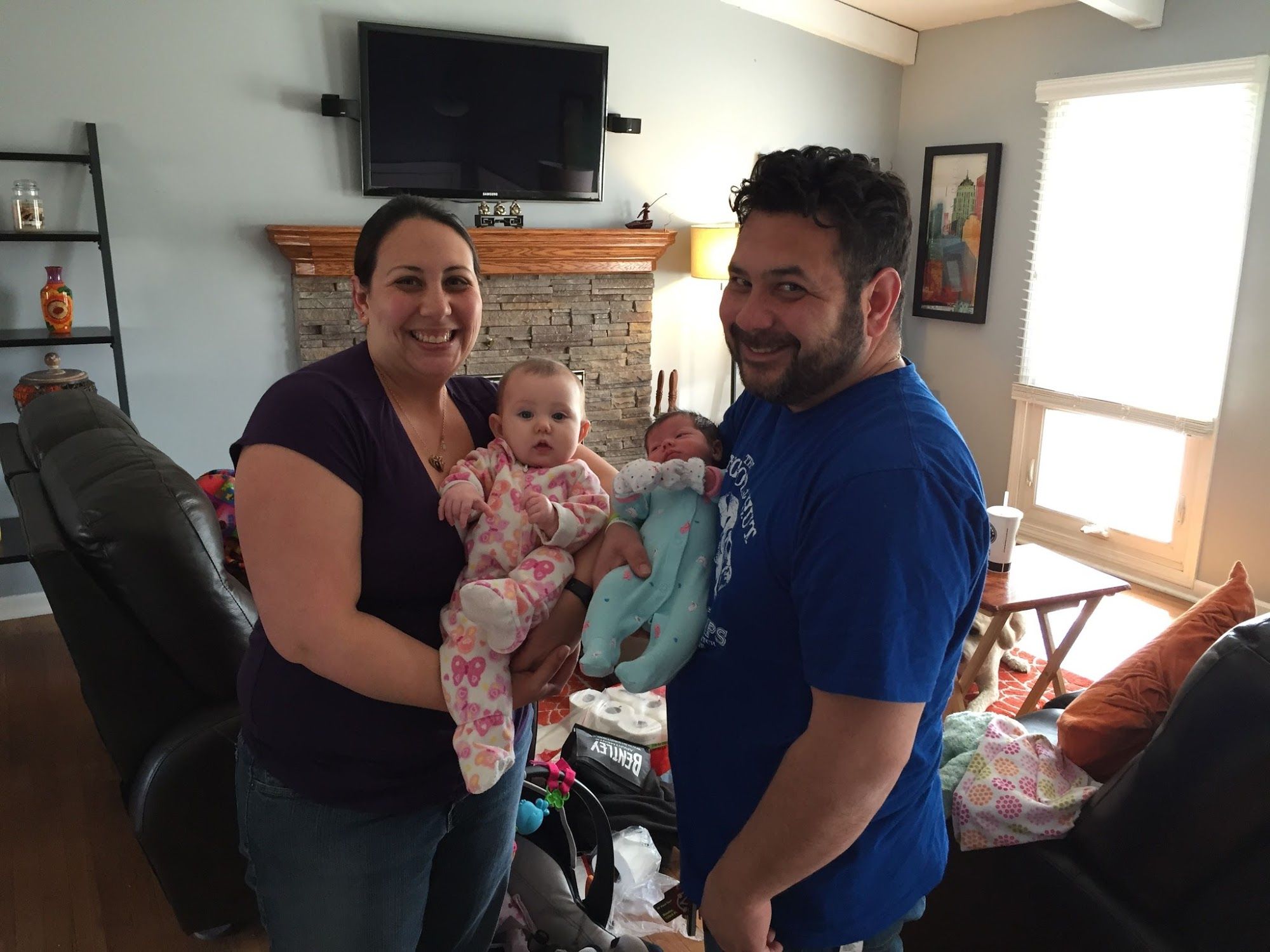 Six months was a busy time for the Bean. She took her first plane ride and she and I went to visit her brand new cousin A., my brother's baby.  It was the first time since college that I have traveled by myself.  My husband and I have been together over 13 years and we usually travel together except when he travels for work.  I was really nervous about the plane flight and all the stuff I had to bring (stroller, carseat carrier, diaper bag, my carryon).  I had so much help on the way to Omaha.  There was a man traveling by himself and offered to help me load up the stroller onto the belt at security. He told me he has 3 kids and he was traveling alone this time on business and he knew all the ins and out of traveling with little ones. He flipped down the stroller like a pro and flipped it back up in the right position after it went through security. He made sure I had everything before he went on his way to his own gate. I noticed he was wearing a St. Michael's medal and I felt that God was giving me a helping hand on my journey. Bean and I had great seat mates and when it was time to leave the plane the gentlemen behind me not only helped me pull my stuff out of the overhead bin, but walked me off the plane and helped me load up the stroller.  My brother met me outside and I was able to spend three days cuddling my niece, giving my brother a chance to sleep while I took care of night time feedings, buying some furniture to help them with all the extra clothes, and decorating A's wall with fun wall clings.  I enjoyed spending time with my sweet niece and loving on her while I could.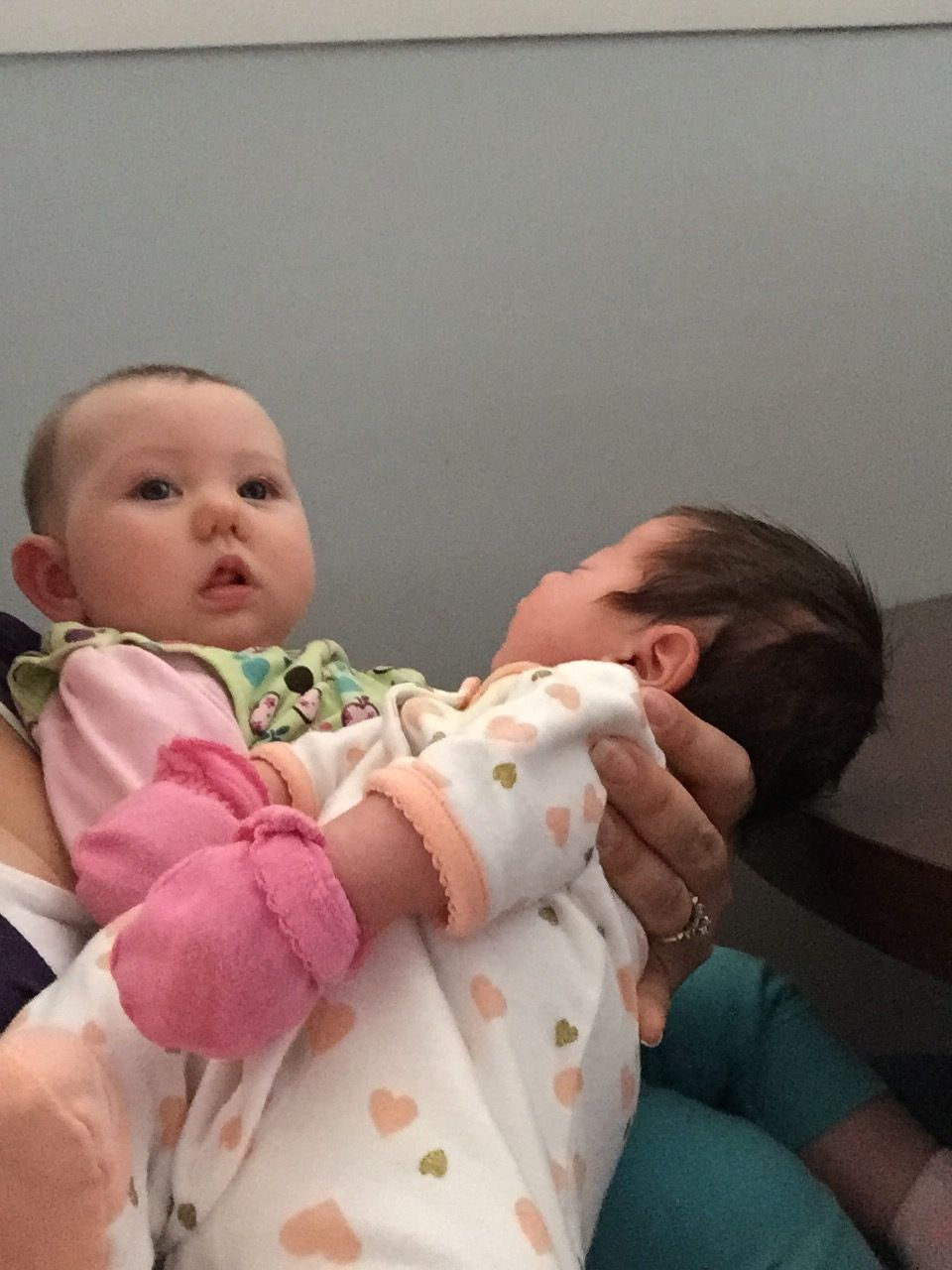 My brother and I aren't very close and in a way I pushed my way into a trip to visit him. He wasn't ready for me to visit, but I desperately wanted to be of some help to him. I wish he would accept it more often, but he and I are very different people I think me being the older sibling makes him feel like he is being judged all the time. I wish he would see that my help was what it was...help. I remember the days of having a first baby and learning the ropes.  He is my only sibling and I just wish we were closer.  I spent the 6 months I knew of A's impending arrival extending the olive branch with regular and frequent phone calls to check up and to offer emotional support. My visit was the same.  I'd like to say the regular phone calls and visit made us closer, but for whatever reason it didn't.  We are back to status quo. Sigh. I continue to extend the olive branch, but I don't think it is being accepted. So I pray and I keep trying.
Six months was also marked by Bean's first Easter and celebrating the Resurrection of our Lord and Savior.  As always we make it to my in-laws house for the annual Easter egg hunt. Next year I see her giving it a go. This year she was happy to observe.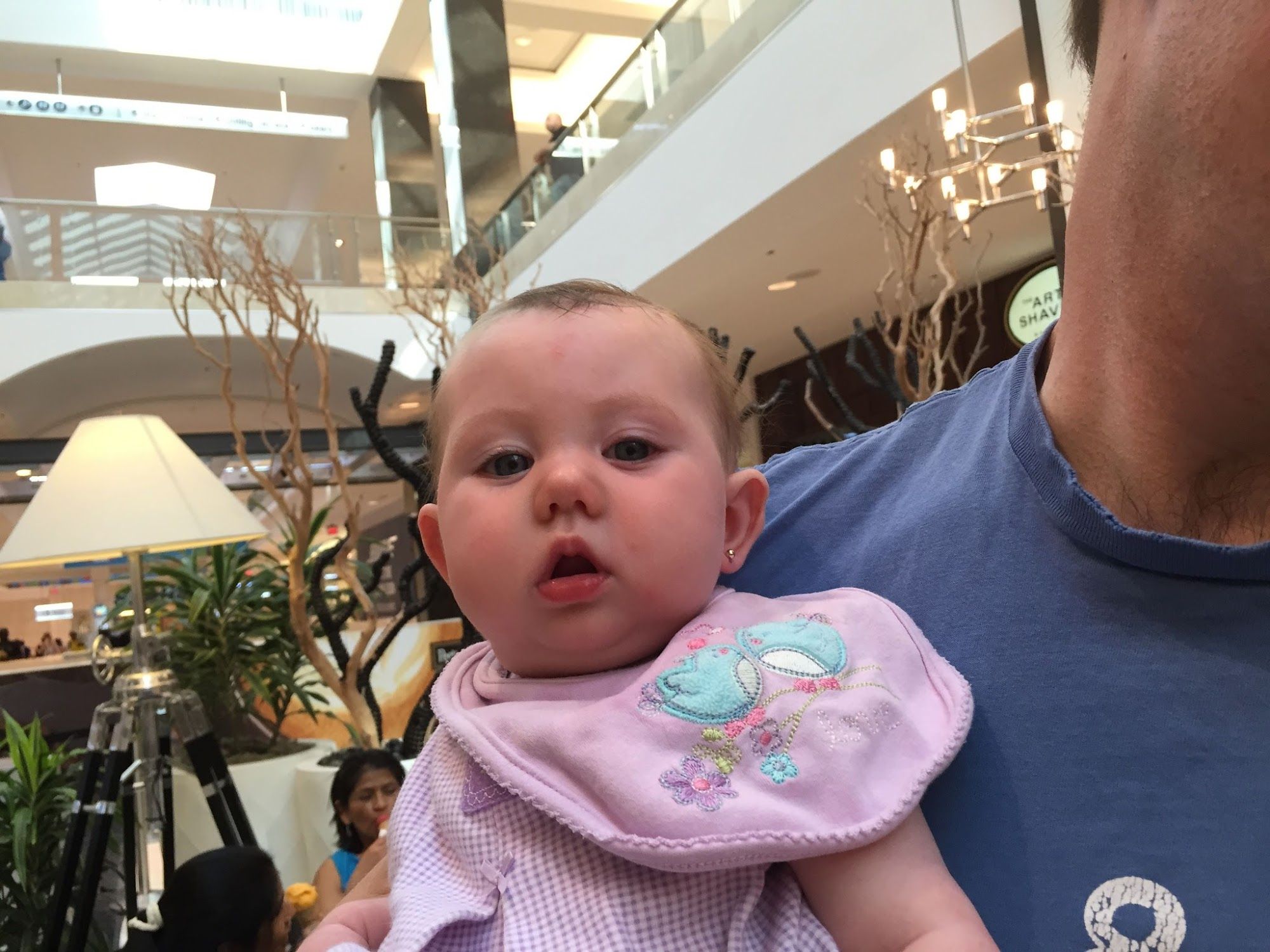 We also had her ears pierced!  This is a cultural custom. In the Philippines baby girls always have their ears pierced. I think mine were done at 3 weeks old. Here in the States they like for you to wait until you are 6 months old.  I love my husband. He knew her 6 month birthday was coming up and said, "So when are we getting Beanie's ears pierced?"  He was also the one to sit with her and hold her. My heart did stop for a second when the gun became stuck and they had to pull a little harder to remove it from the earring and the ear attached!  Bean was a trooper and after a few tears and a nursing session, she recovered quickly and her ears are adorned with pretty gold balls.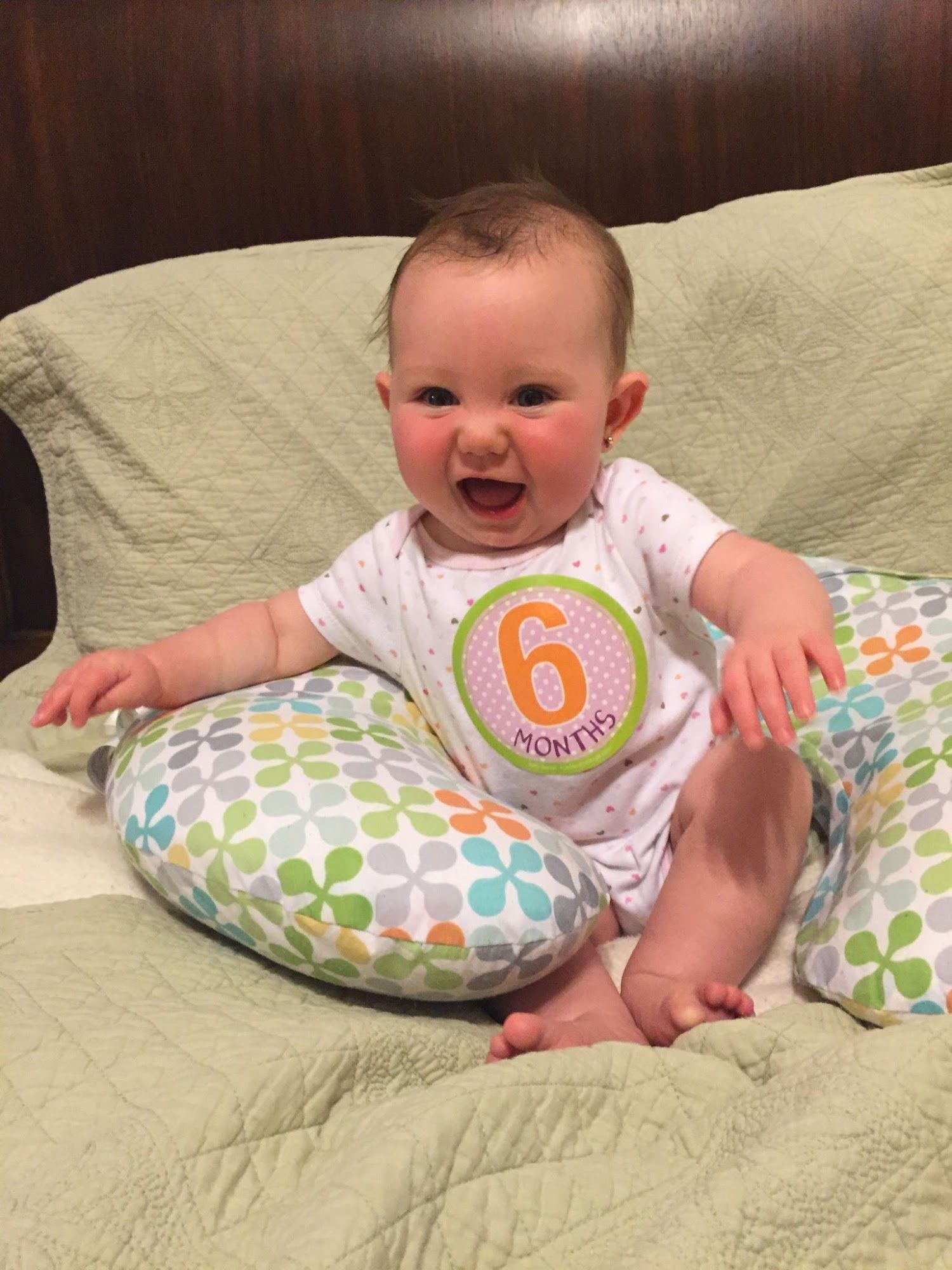 At 6 months she continues to sleep in her co-sleeper and she sleeps well. She is sitting up in her Bumbo and had her first try of baby cereal. She is not a fan of any kind of baby food and would much prefer to eat what we eat.  But the child needs some teeth first. In the meantime she is eating mushed bananas, mushed sweet potatoes, and anything else we can mush.  She is a delight and I can't believe that she is well on her way to becoming a year old.