Thank You Flipper Coaches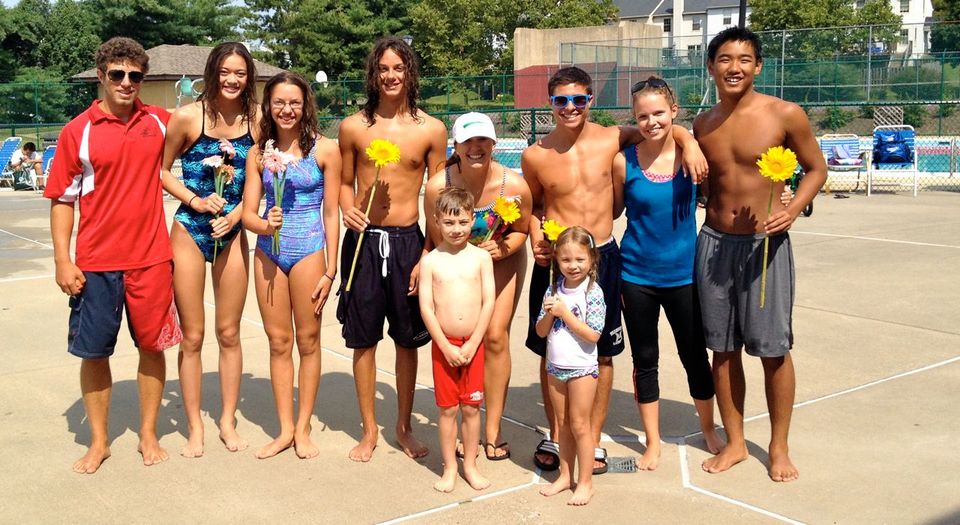 I could go on and on about how much I love Summer swim team. It was wonderful to have both of the big kids swimming this Summer and as a result Mr. Bananas is trying to mimic their arms and legs every time he gets into the water. I think I'll have three swimmers very soon!
I loved our Flipper coaches and thought they did an excellent job working with the children. They assessed the kids and grouped them by ability and helping them to accomplish some very basic water skills. Buggy's group learned how to put their face in the water and how to float. I didn't expect more than that. I really wanted her to work on feeling comfortable in the water. As a result, when we go to the pool she loves to show me how can put her whole body in the water, even her face. Last year she wouldn't do that. This year, she can't wait to be in the water.
Boogie learned to swim freestyle and swam in several meets. I was hoping he would progress this year, but didn't want to put to much pressure on him. He did so well and next year we'll work on the backstroke.
Too bad, Mr. Bananas can't join yet. He's so excited to be in the water. Like Boogie, he truly is a water baby.
The coaches were fantastic. I was trying to figure out a nice thank you gift for each of them. But there were 8 coaches who were worked with my children. Giving them each a $5 gift card didn't seem enough, but if I gave them each a $10 gift card it would be too much for my budget. I did contribute to the coaches' gift and gave them a check, but I also wanted the coaches to know how appreciative I was as a parent. They were professional, friendly, and personable.  I never heard them raise their voices or act unkindly or frustrated with any of the children. And working with 50 kids, that's gotta be tough.  But the coaches were wonderful.
One day as the kids and I were walking through Trader Joe's we decided to buy each of the coaches a big flower.  Sunflowers for the boy coaches and pink Gerber daisies for the girl coaches. I let each of the kids pick the flowers. On the last day of Flipper classes I wrote out a thank you note.  After the session Boogie gave each of the girl coaches 3 pink daisies and Buggy gave each of the boy coaches a sunflower. It was neat to see the coaches' faces light up. They were touched by my kids' gesture. Their reaction confirmed that going with a simple, humble gift was better than trying to "pay" them with a gift card for their hard work this Summer.  I really wanted to ask the coaches for a picture with my kids, but didn't want to bother them. I was so relieved when one of the coaches gathered all the coaches and said he wanted a picture with all of them and my kids.  I got my picture and so did he. I look forward to next Summer and another swim season. Go Flippers!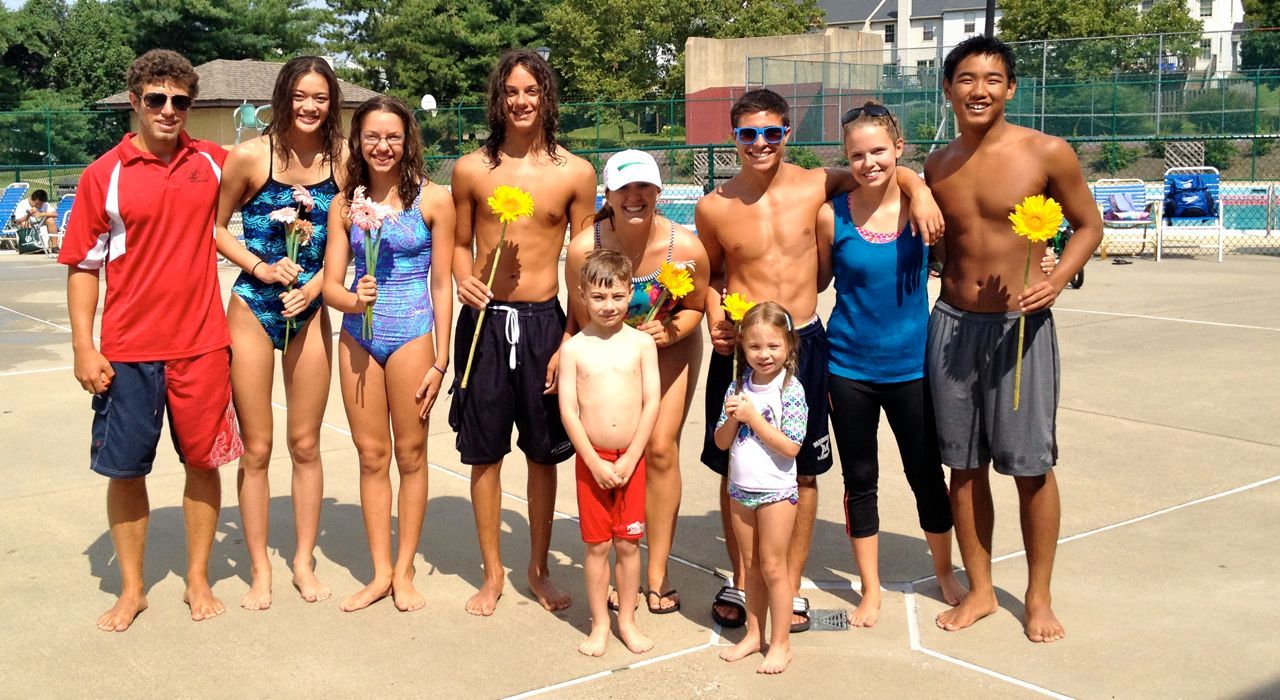 I also love that most of the coaches are lifeguards at our pool. I feel an extra layer of security while we're at the pool because they know my kids and their abilities. I am also touched that they take the time to talk to my kids between shifts. It really makes us feel that we are part of a community and not just a Summer activity.